UK-PHRST: the UK's novel approach to outbreak response
Issue: Arboviruses and their Vectors
06 August 2019 article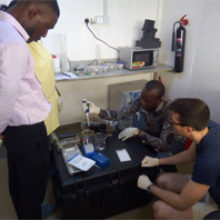 The 2013–16 epidemic of Ebola virus disease in West Africa underscored the shortcomings of the international community to both respond to outbreaks and conduct critical research in complex humanitarian crises.
To address these concerns the UK Public Health Rapid Support Team (UK-PHRST), funded by UK Aid from the Department of Health and Social Care, was formed. The UK-PHRST is a collaboration between Public Health England and the London School of Hygiene & Tropical Medicine, with the University of Oxford and Kings College London as academic partners. The UK-PHRST has a novel triple mandate to work in low- and middle-income countries (LMICs) to carry out the following tasks:
Respond to outbreaks.
Conduct innovative research on outbreak-prone diseases both during and between outbreaks in order to generate evidence on best practice.
Build capacity for LMIC outbreak response.
The UK-PHRST has taken a unique approach in fulfilling its tripartite mandate by tackling outbreaks and outbreak-associated activities in a holistic manner. This has been achieved via the recruitment of a multidisciplinary core deployable team of experts consisting of microbiologists, epidemiologists, clinical researchers, social scientists, data scientists, infection prevention and control experts and logisticians – each specialisation adding knowledge, practical skills and technical expertise to help tackle dynamic problems in the field. The UK-PHRST is a member of the World Health Organization's (WHO) Global Outbreak Alert and Response Network (GOARN) and can deploy under their processes, via direct requests from an LMIC government or in support of UK-Emergency Medical Teams (UK-EMT) or other international stakeholders, all within 48 h of a formal request. To date, the UK-PHRST has responded to a wide array of requests for support for an outbreak response, including to Madagascar (pneumonic plague), the Democratic Republic of the Congo (Ebola virus disease), Nigeria (Lassa fever), Bangladesh (diphtheria), Nigeria (meningitis), Ethiopia (acute watery diarrhoea/cholera) and Sierra Leone (enhanced surveillance for waterborne disease after heavy rains and landslides).
In addition to providing rapid and robust outbreak responses, the UK-PHRST also implements and supports a range of research and capacity-building projects. The challenge is to make these two aspects work synergistically, thus helping to not only provide answers to important research questions, but also to concurrently build in-country outbreak-related research and diagnostic capacity. Examples of research projects with capacity-building elements currently underway include effective diagnostics and laboratory outbreak capability for gastrointestinal pathogens in Sierra Leone; application of metagenomics to outbreaks of undifferentiated febrile illness in Sudan; identification by TaqMan array card system and MinION sequencing of co-circulating pathogens that are clinically indistinguishable from Lassa fever during seasonal Lassa outbreaks in Nigeria; phylogenetic and cluster analysis of human monkeypox samples from the 2018–19 outbreak in Nigeria and rapid response molecular diagnostics for Crimean-Congo haemorrhagic fever.
To help support the ever-growing need for trained specialists to deploy rapidly in response to outbreak callouts, the UK-PHRST has begun to establish a reserve cadre from across the UK that will provide surge capacity and enhanced expertise to the core deployable team. Reservists will remain employed by their primary organisation and be released only when required to deploy. The UK-PHRST issues calls for reservists periodically and is always interested in recruiting high calibre scientists, especially French speakers (a valuable skill for work in francophone Africa), with experience in diagnostics, high-containment microbiology and field work in LMICs. Any interested individuals are encouraged to contact [email protected] phe.gov.uk, or the authors directly, for more information.
Acknowledgements
The views expressed in this publication are those of the author(s) and not necessarily those of the UK National Health System, the National Institute for Health Research or the Department of Health & Social Care.
Jonathan W. Ashcroft and Ben W. Gannon
UK Public Health Rapid Support Team: Public Health England, Porton Down, UK, and London School of Hygiene and Tropical Medicine, London, UK
---
Image: Training in Nigeria (Taq Array Card loading with mock samples). Dr Emeka Ndodo (NCDC).