Annual Conference 2018
Issue: Archaea
08 August 2017 article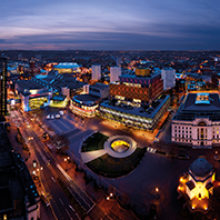 #Microbio18
Tuesday 10 April – Friday 13 April 2018
ICC, Birmingham, UK
Annual Conference 2018 will provide another superb programme of microbiology and networking spread over four days, and will include Prize Lectures, symposia, workshops and forums. The schedule is shaping up nicely as we begin to confirm our line-up of speakers and topics, and we are delighted to be returning to the ICC in Birmingham, where we were in 2015.
Abstract submission is open and will close on 11 December 2017. Due to a strict timeframe there will be no extension to this date, so please ensure you submit on time to be in with a chance of presenting your work through an offered talk or poster.
Registration is already open online and, due to the demand in 2017, registrations will be capped every day to avoid overcrowding. Registration will close on 12 March 2018 or sooner if sold out, whichever comes first. Please ensure you have registered before booking any accommodation and travel to avoid disappointment.
Visit our website to view all of the information on Annual Conference and follow the hashtag #Microbio18 for regular updates.
Destination Birmingham
Birmingham has one of the youngest populations in Europe and is a dynamic, creative city that is constantly evolving. It is a natural meeting place in the UK due to its locality and transport links, and is also a crossroads for culture with diverse influences that are easy to spot everywhere in the city.
Boasting something for everyone, whether you're a culture vulture, shopaholic, food enthusiast, party animal or sports fanatic, Birmingham is a destination of limitless opportunity, offering visitors an eclectic mix of things to do. With a compelling and varied arts and social scene, Birmingham is home to inspirational organisations and venues right across the cultural spectrum. Birmingham also has a growing reputation as a foodie haven, is a critically acclaimed host of independent festivals and has a year-round calendar of world-class sporting events.
Visit www.visitbirmingham.com to find out more about our 2018 location.
Accommodation
The ICC Birmingham is a fantastic destination as it is easily accessible from around the UK and abroad, plus there are many hotels within walking distance, and plenty of restaurants and attractions nearby.
To aid you with securing your accommodation for Annual Conference 2018, you can visit our website where we have provided a link to our booking service, Reservation Highway. Reservation Highway has negotiated rates at local hotels to suit a range of budgets and will be able to accommodate single occupancies, double rooms, group bookings and family rooms. Please ensure you register for Annual Conference before arranging your accommodation.
Travel arrangements
By car
The ICC is located centrally in Birmingham city centre and is easily accessible by road from across the UK. Visitors can travel in to Birmingham using many different routes connected to the following motorways: M1, M5, M6, M6 Toll, M40 and M42.
Car parking
There is a secure multi-storey car park located within the sister venue, the Barclaycard Arena, which is just a short walk away from the ICC. Both the ICC and Barclaycard Arena are signposted on motorways and major roads, and are marked on most road maps. The North car park is closest, or alternatively simply follow the road around on to St Vincent Street for the West car park, or carry on further around to Sheepcote Street for the South car park.
Current charges are from £2.50 for up to two hours to £15.00 for 24 hours. Payment can be made at the Pay and Display machines or online. Full cark park charge details can be found on the Barclaycard Arena website.
Alternative parking is located at Brindleyplace or Paradise Circus.
By air
Birmingham Airport is well connected and has over 50 airlines operating scheduled and charter services to more than 100 destinations including Europe, North America, the Middle East and the Indian sub-continent. The airport is just eight miles from the city centre and is directly linked to Birmingham International railway station via an Airlink Shuttle.
The smaller East Midlands Airport is 42 miles away. The closest London airport is London Luton Airport, which is 92 miles away, and London Heathrow Airport is 107 miles.
By rail
The ICC is served by the UK's largest interchange rail station, Birmingham New Street, and the smaller Five Ways station. Both stations are a short walk from the ICC, and taxi ranks are situated close by. Birmingham New Street has direct and regular services to Birmingham International railway station, which directly links to Birmingham Airport and the NEC. It also has many direct services to London Euston, including a service that takes about 80 minutes and runs every 20 minutes.
Birmingham's two other city centre train stations, Moor Street and Snow Hill, are also within quick and easy access of the ICC and directly connected to London Marylebone or London Paddington via an hourly service.
Virgin Trains offer discounted group travel for groups of between three and nine passengers travelling together. This currently stands at a 20% discount off Advance Fares booked through their website – for more information visit the group page of their website.
By coach
For information about travel by coach please visit the National Express website.
Programme 2018
Below is a list of the session topics for our 2018 Annual Conference. Visit our website for speaker information and scheduling:
Main symposia*:
Biological insights from studying new eukaryotic models
Cool tools for microbial imaging
The battle for the ribosome – how viruses manipulate host translation
Bacterial zoonoses: ecology, epidemiology and evolution
Breaking bad: factors affecting the commensal to pathogen
Community interactions and the living host
DNA repair
Emerging model systems
Escherichia coli: the model microbe
Microbial diversity and interactions in the environment
Microbial metal homeostasis: impacts on pathogenicity
Models for understanding host–pathogen interactions
Synthetic ecology: from understanding ecological interactions to designing functional microbial communities
The games microbes play: competition, conflict and cooperation in microbiology
The global virome
The magic of mushrooms in nature and industry
Virus workshops:
Clinical virology
DNA viruses
Negative strand RNA viruses
Phylogeny
Plant viruses
Positive strand RNA viruses
Retroviruses
Prokaryotic and eukaryotic forums:
Environmental and applied microbiology
Genetics and genomics
Microbial infection
Microbial physiology, metabolism and molecular
*Titles subject to change