ECM Forum Update
Issue: Archaea
08 August 2017 article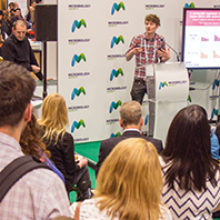 Conference highlights and prize winners
Now that the dust has settled from April's Annual Conference, I thought this would be a great opportunity to reflect on the fantastic contribution made by early career microbiologists to the whole week.
The early career networking event that kicked off the Annual Conference received lots of positive feedback, with attendees feeling that they got more out of the session than in previous years. The 'networking bingo' provided a simple but effective way to encourage people to move around groups and interact with more people than they would have otherwise. The evening then continued to the pub for some more informal socialising, organised by the ECM Forum Committee, which seemed to go down well too!
The quality of talks given by ECM Forum members was really impressive; subjects including autophagy in flu viruses, the use of antimicrobial peptides against MRSA and the characterisation of small colony variants were my personal highlights. It was great to see so many offered orals knitting seamlessly into the sessions. The Forum also supplied several co-chairs, something that we are hoping to see more of at the next Annual Conference.
The flash poster talks, several given by ECM Forum members, were excellent; it is a real skill to condense your work down into a couple of minutes. The lunchtime flash posters were well attended, and hopefully presenters will have found the experience to be useful as well increasing footfall to their posters.
We were delighted to announce Michael Norman, University of East Anglia, and Ana da Silva, University of Nottingham, as the winners of the inaugural ECM Forum poster prize. We couldn't decide between them! Ana said, "Thanks to everyone for all their helpful insights. It is apparently a good idea to include an experiment with unexpected results to trigger interesting discussions!" Michael, who also received an Editors' Choice prize for his poster, was delighted to be chosen: "I felt really happy but also surprised, especially when I found out I'd won two prizes! It was great to talk to people about my research in a relaxed setting. People seemed genuinely interested, and I'm glad it was well received." The quality of the posters was very high with many deserving candidates and it prompted a lot of discussion amongst the Committee to decide on the eventual winners.
The Committee followed up the Annual Conference with the first in a series of annual Summer Roadshows exclusively for ECM Forum members. For 2017 these took place in Birmingham, Leeds and Glasgow. We hope that ECMs agree that they provided a platform for forming new connections with other early career researchers but, above all, they were really enjoyable too!
If the Conference has inspired you to get involved with the Society then you can sign up to the ECM Forum via the website. This will give you access to grants and a range of other benefits, including attending the Roadshows and participating in the co-chair scheme. As always, feel free to drop us an email if you have any ideas or questions.
Rebecca Hall
Communications Representative, ECM Forum Executive Committee
---
Image: A flash poster session at the 2017 Annual Conference in Edinburgh.