Membership Q&A
Issue: Archaea
08 August 2017 article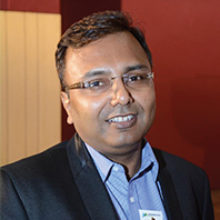 This is a regular column to introduce our members. In this issue, we're pleased to introduce Arindam Mitra.
Where are you currently based?
Adamas University, West Bengal, India.
What is your area of specialism?
Bacterial pathogenesis, biofilms and vaccines.
And more specifically?
Understanding the regulation of virulence in bacterial pathogens, and the role and mechanism of bacterial biofilms from clinical, food and environmental sources. I also develop vaccines for veterinary and human use.
Tell us about your education to date.
I obtained my bachelors in Pharmacy and my masters in Biotechnology from Jadavpur University, India. I then received a PhD in Microbiology from the University of Maryland, USA. This was followed by postdoctoral research at Arizona State University, USA. I have also received a Diploma in Business Management from the Institute of Management Technology, Ghaziabad, India.
Where did your interest in microbiology come from?
I was a Rotaract member (youth wing of Rotary International) during my college days. At Rotaract, we organised a free polio vaccination camp for infants as part of the community outreach activities. This was my first experience of working with vaccines and microbiology. I didn't know that one day I would be developing vaccines myself!
What are the professional challenges that present themselves, and how do you try to overcome them?
A major challenge is the development of research laboratories in university settings to perform quality research work. To address this, I have previously set up research laboratories in two universities, and also at my current university, Adamas University. Staying up-to-date with new methods of teaching and research are essential for imparting quality education too. A broader challenge is making the students and public aware of the role of science in society, and why it is crucial to fund research on infectious diseases and the development of therapeutic strategies. Being a Microbiology Society Champion has helped support this. As a Champion, I organised a workshop in my university with students focusing on the role of vaccines in combating infectious diseases, such as smallpox and polio.
What is the best part about 'doing science'?
Science is a dynamic process. Learning from results based on the careful design and execution of experiments can be very stimulating. It is equally exciting to learn from peers and leaders about cutting edge science in seminars and at conferences. Reaching out to the public through outreach activities is equally important as well. Also, making one's work known through peer-reviewed publications is essential for the progress of science. This is where open access publishing plays a very important role in bringing science to the public without barriers.
Who is your role model?
Mentors during my masters, doctoral and postdoctoral work have definitely broadened my approach towards science. I was also fortunate to meet many devoted, humble scientists at conferences and seminars. Each of those scientists inspired me through their speeches, discussions and willingness to make a difference in society.
What do you do to relax?
I find listening to music and playing my guitar can relieve stress. In addition, outdoor activities, such as hiking and rock climbing, as well sports, such as cricket, table tennis and badminton, are also refreshing. Once, I had an amazing experience of tandem skydiving from 13,000 feet!
What one record and luxury item would you take to a desert island?
It is not easy to choose a single record but it would be REM's Automatic for the People. With regards to the luxury item, I would take my guitar (and, if possible, a jet pack to travel around the island!).
Tell us one thing that your work colleagues won't know about you.
Possibly, they may not know what kind of music I listen to.
If you weren't a scientist, what would you be?
I considered physics, engineering, pharmacy and management as career options, but microbiology and exploring the exciting field of microbes interests me the most. Possibly science public engagement would have kept me busy.
If you would like to be featured in this section or know someone who may, contact Paul Easton, Head of Membership Services, at [email protected]
---
Image: A. Mitra.