Outreach
Issue: Archaea
08 August 2017 article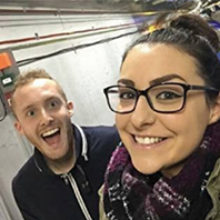 Antibiotics Unearthed
After a successful series of pop-up events in the summer of 2015 and 2016, the Antibiotics Unearthed Team were out again at Thetford Forest in May, crowdsourcing for new antibiotics.
Antibiotics Unearthed gives the general public, students and educators in the UK and Ireland the opportunity to work with scientists as part of a global initiative to discover new antibiotics from soil bacteria. The pop-up events encourage members of the public to get engaged with the topic of antibiotic resistance and be involved in research looking for new drugs.
In May, people visiting Thetford Forest could take a sampling kit around the forest with them, collect a soil sample and prepare a spread plate of their sample when they returned to see the bacteria present in the soil. These samples were then deposited in our soil bank, and sent to the University of East Anglia for analysis.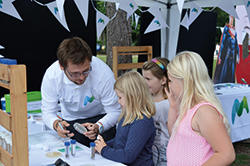 Visitors to the stand were welcomed by a team of expert volunteers (you can read about their work further on the website) and were informed about searching for new antibiotics in the soil, the methods used to look for new medicines and the threat of antibiotic resistance.
Samples were submitted by visitors to the forest, who are being kept updated with the analysis of the samples at the University of East Anglia via email and social media.
If you would like to know further about the project, contact the Antibiotics Unearthed Team ([email protected]).
Hannah Forrest
Public Engagement Officer
[email protected]
The Antibiotics Unearthed team will be at the Glasgow Botanic Gardens on Thursday 7 September 2017.
TeaTime Science
Microbiology Society members Amy Easey and Michael Norman have set up their own outreach and communication social media platforms to make science and microbiology more engaging to the public. Below details their experiences and how they came to set up TeaTime Science.
Amy
I studied for my undergraduate degree in Biomedical Science at the University of Hertfordshire. Afterwards, I went on to become a trainee bar manager for a little while before returning to science as a DNA analyst at LGC forensics. After seeing an advert for a PhD I liked the look of, I have now ended up at the University of East Anglia! I'm in the third year of my PhD, researching ways to make ligases work better. Ligases are involved in DNA and RNA repair pathways and are valued tools in microbiology; the better they work, the better we can work!
Mike
I did my undergraduate degree in Microbiology at the University of East Anglia and then went straight on to doing my PhD where I research extracellular electron transport in the rock-breathing bacteria Shewanella. By understanding this process better, we hope to improve their use in microbial fuel cells to generate more energy.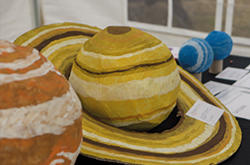 Having both come from small rural towns and being the first in our families to go to university, we're very interested in getting more people interested in science. While doing our PhDs we decided to start up a social media account dedicated to talking about science and showing the normality of life in science. This was the start of @TeaTimeSci on Twitter and Instagram! We post interesting science stories, publicise outreach events, explain our lab work and show the funny side – especially when things go a bit wrong! We have been to schools to talk to students about our research and how we got into science. This was a great experience and we got people who had never considered doing science before thinking about it seriously. As TeaTime Science we also hosted an online Q&A session for university undergraduate students to help answer any questions they had about careers after graduation. We took in questions, many about specific careers, and then got in contact with people who had gone on into those careers after they had graduated, to help answer these questions. We then tweeted out the questions and the answers and got a discussion going about different opinions and experiences.
We were part of a small team who organised three nights of science talks and demonstrations in a pub for Pint of Science 2017. Our theme was tech and we had a range of talks covering everything from microbial biotechnology through to AI, and how big data is used in healthcare. To help further explain the science in the talks, we had activities for people to do, including virtual reality experiences, 3D printers and grow your own protein crystals.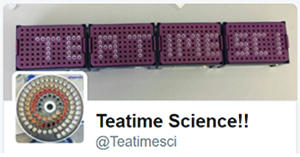 Last year a new branch of the British Science Association was set up in Norwich so we decided to get involved in that too! We're now co-publicity officers for the branch and together with six other members (many are fellow PhD students) we organise and run events to promote science to the public. We put on a science treasure hunt around Norwich city as part of British Science Week (#NorwichSciHunt) and had six stalls, run by volunteers, each focused on different science topics. People were given maps with clues leading them to the stalls where they could then take part in an activity or demonstration explaining some science. The event went down really well, with around 1,000 people taking part. We've had stalls at many other events throughout the year, each with specific themes, from the scale of our solar system to superhero bacteria! Coming up soon, we're putting on a forensics-themed activity during Norwich Science Festival in October so keep an eye on @BritSciNorwich to see how that goes!
It's so easy to do outreach and there're loads of opportunities! We would recommend everyone try it because you can make such a difference. If you're unsure of how/where to look please drop us a message and we will happily point you in the right direction.
Amy Easey and Michael Norman
University of East Anglia
@TeaTimeSci
---
Images: Children at an Antibiotics Unearthed event. Microbiology Society. Michael Norman and Amy Easey, and hands-on demonstration. Both TeaTime Science.