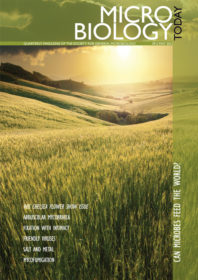 To view and print this document, you will need to download Adobe Acrobat Reader.
Can microbes feed the world? - RHS Chelsea Flower Show Issue
01 May 2012 publication
On a planet where the population has recently expanded to 7 billion people, the issue of food security is paramount. The ability to feed those people is a major challenge to science and society. Food security encompasses a wide range of issues relating to microbes, plants and the planet, such as soil health and nutrient cycling, plant-microbe interactions, crop pathogens, gut microbiology and pathogens of livestock, food spoilage, food safety and human disease, and waste management. These issues are summarized in the recent SGM Position Statement on Food Security and Safety. In this issue we have aimed to bring our readers some fascinating insights and novel perspectives into the influence micro-organisms have on a range of plant-microbe systems.
Interview with Sir John Beddington CMG FRS (p. 72)
Sir John Beddington CMG FRS, Chief Scientific Adviser to the UK Government (GCSA), expresses his views on food security and his role as GCSA.
Feed the world? Arbuscular mycorrhiza and agriculture (p. 90)
As the world's population continues to increase, and as the production of fertilizer becomes evermore unsustainable, is it time to consider another agricultural revolution – the 'microbial revolution'? Angela Hodge presents the argument.
Rhizobia and legumes: fixation with intimacy (p. 94)
Nitrogen is an essential building block of all life. But eukaryotes have never evolved a biochemical pathway to fix atmospheric nitrogen. However, as J. Allan Downie & Philip S. Poole describe, some plants have developed intimate symbiotic relationships that enable direct transfer of fixed nitrogen from bacteria.
Viruses can be our friends (p. 100)
As Marilyn J. Roossinck points out, plant viruses are invariably thought of in terms of the diseases they cause, but can viruses be of benefit to crops?
Growing plants in the presence of salt or metals (p. 104)
Elisa Gamalero & Bernard R. Glick ask how can microbes be used to alleviate the stress caused by high salinity and heavy metal pollution that afflict a large proportion of agricultural land around the world?
Muscodor albus – the anatomy of an important biological discovery (p. 108)
The discovery in the 1990s of a novel genus of fungus, Muscodor, that lives harmlessly inside plant tissues and produces several bioactive compounds, has opened up a new range of possibilities for controlling plant diseases and bacterial food contamination by 'mycofumigation', as Gary Strobel reports.
Schoolzone (p. 112)
Dariel Burdass explains the nitrogen cycle and presents a practical to isolate microbes from root nodules. Christine Campbell discusses the work of the Culture Collection of Algae and Protozoa and how they can supply schools with materials for classroom experiments, and Tristan Bunn writes about the new BBSRC practical biofuel activities.
Gradline (p. 120)
Karen McGregor presents four job-seeking strategies.
Media (p. 124)
Laura Udakis rounds up media activity at the SGM Spring Conference in Dublin.
Outreach (p. 126)
Vicki Symington's report of SGM at the Birmingham Big Bang.
Public Affairs (p. 128)
Industry, academia and learned societies search for solutions to the pharma jobs crisis – SGM Policy Officer William Burns reports.
Going Public (p. 130)
David Bhella describes infectious engagement at the MRC Centre for Virus Research. Simon F. Park relates a tale of how he became involved in bacterial art, and Eshwar Mahenthiralingam discusses the dilemmas of antibiotic discovery and antibiotic resistance with the Ross Science Society.
Comment: Stop bugging me! (p. 140)
We need to rapidly sequence and release the genomes of emerging plant pathogens. Food security and environmental preservation hang in the balance. Sophien Kamoun explains.