Annual Conference
Issue: Engaging Microbiology
17 May 2022 article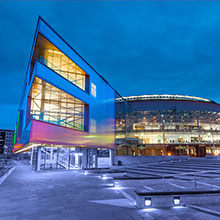 Annual Conference 2022
Monday 4 April–Thursday 7 April 2022
ICC Belfast
In April, the Society welcomed over 1,400 delegates to its flagship Annual Conference, which saw a return to its in-person annual meeting format following a two-year hiatus.
The Society was delighted to return to Belfast and its International Convention Centre, which hosted a global speaker line-up of experts within their field, presenting over four science-packed days.
The event included:
28 scientific sessions
talks from 150 invited speakers
around 270 offered talks
around 550 posters
three sessions dedicated to Microbiology Society professional development:
1. Microbiology careers fair
2. Teaching microbiology in higher education symposium
3. Publishing fundamentals
two Hot Topics:
o Climate change: integrating the influence and trajectories of microbes past, present and future – Professor Alexandra Worden (GEOMAR, Germany)
o Lessons learned from covid-19: are we ready for the next pandemic? – Professor Wendy Barclay (Imperial College London, UK); Emma Thomson (University of Glasgow, UK); Gavin Yamey (Duke University, USA)
five Prize Lectures
Following the popularity of the Society's virtual events over the past two years, Conference also integrated some of the best online elements from this time. This included an e-poster directory, an event app and a virtual event platform for legacy content.
Don't forget! If you presented work at our Annual Conference 2022, submit your article to one of our many Journals to continue to support the work of the Society and the microbiological community. Visit our journal platform to find out more and submit your article.
Visit our YouTube Channel to see some of the material we captured from this year's event.
---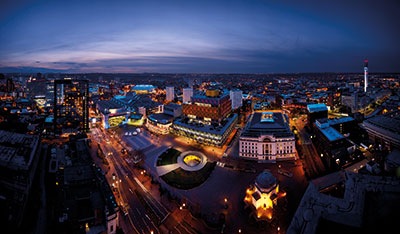 Annual Conference 2023
Monday 17 April–Thursday 20 April 2023
ICC Birmingham
Preparation is now well underway for Annual Conference 2023 which will take place at the ICC Birmingham.
The programme is currently in production with our Scientific Conference Panel and Divisions who are working across the broad range of microbiology topics and its various disciplines to deliver an exciting and cutting-edge programme. In addition to the scientific programme, the Society will be hosting a series of Professional Development sessions for all delegates, along with posters and social activities.
Destination Birmingham
Birmingham is a city with forward-thinking architecture and expansive waterways, and is lined with history, culture and lifestyle. If you're planning on extending your stay after Conference, the city has world-class museums and galleries to explore and rewarding culture and heritage to discover.
Go to the 'Visit Birmingham' website for further information about this city.
Programme
As always, Annual Conference is designed to cover the breadth of microbiology research, and its comprehensive scientific programme has sessions taking place over four days in a range of formats.
Sign up to our newsletter to ensure you are receiving regular updates about Conference and other Society news and visit our events page for further information.
---
Image: ICC Belfast.