Extended reality: new frontiers of microbiology teaching
Issue: Engaging Microbiology
17 May 2022 article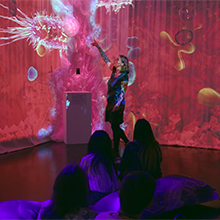 The ever-evolving landscape of education is going through a sonic boom of change. The floodgates are opening on information access, demands for online content are through the roof, student cohorts are more diverse than ever before and the metaverse has landed. There is an increasing need for alternative learning strategies, and immersive technologies are set to revolutionise the field of education.
Help! Is my textbook dead? – Riding the new wave of information
Students often report feeling overwhelmed by the volume of freely available scientific information online, and now pre-print platforms and plan S promise unlimited open access to all. Though the open sharing of science should be celebrated, it is our job as teaching and learning practitioners to help navigate this tidal wave with new and interesting ways to promote engagement. Higher education methods long ago shifted priorities from delivering 'facts', to encouraging independent enquiry. We strive to inspire those eureka moments when a threshold concept is grasped. This is supported by signposting to trusted textbooks for rooting fundamental knowledge. However, student communities and needs have changed too, with a diversity of backgrounds, responsibilities and priorities. The COVID-19 pandemic has acted as a catalyst for improving online learning content as modern students see a much more digital learning space emerging. This has opened an opportunity to explore the use of extended reality technologies in our teaching.
Moving microbiology into the metaverse
Recent advances in computing power and technology have launched a whole new universe of possibilities in extended reality (XR). The games industry has developed the tech to create alternative worlds such as Virbela and Spatial, and even game platforms like Fortnite have been used for learning experiences, which allow users to re-invent themselves and enter the classroom as a different person. Previously, the necessary kit was expensive and exclusive; but the rapid consumerisation of XR has changed this, and there is an opportunity to develop more educational content for the equipment that is already beginning to gather dust in some family homes.
What is XR?
Extended reality (XR) is an umbrella term encompassing 'virtual reality' (VR), which is an enclosed, headset-powered, immersive digital environment, 'augmented reality' (AR), which uses projections or screens to superimpose virtual objects onto physical objects for interaction in a real space, and 'mixed reality' (MR), which is a hybrid of the two, combining both digital and real-world interactions.
This year marks a decade since my appointment as a lecturer at the University of Salford. During this time, I've had the chance to explore my creative side in the development of SciArt and interactive microbiology activities. Through this work, I've got to know an enthusiastic community of creative and digital technology practitioners and learned how XR can tap into young interests and promote a different way of engaging with course content. As microbiologists, we have the privilege of glimpsing the invisible world of micro-organisms that others are not privy to. Although I don't stare down a microscope all day, or have bionic microscope eyes, my research training and experiences mean that I have pictures in my mind that help me think about how bacterial communities grow and develop and interact with their surroundings. These concepts can be quite alien to others. The beauty of XR is that it can take you to places you would never normally dream to reach, like the Moon or the bottom of the ocean, or the microscopic surface of a cell from the perspective of a virus! I jumped at the chance to work with a multidisciplinary team to build virtual microbial worlds, which we called 'The MICROBIhOME'.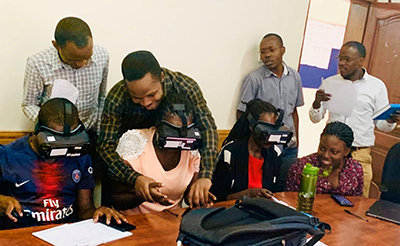 The MICROBIhOME is a suite of activities first developed for the Manchester Science Festival in 2018, but has grown as an invaluable teaching resource and primer for conversations and research collaborations. Our flagship exhibit was 'Gut Feelings', an interactive AR experience of the healthy human gut using projections and soft sculpture in our digital performance lab at Media City, UK. We brought our second-year Human Biology and Infectious Diseases students into the installation for a lecture on biofilms, which was brought to life by giant microcolonies complete with tactile exopolysaccharide matrix and cavernous channels. The students valued the shared learning space outside of a lecture format and agreed that it helped them to visualise the concepts and make connections between different aspects of their course. It gave them a thirst for more.
"We can better visualise what we talked about in class."

"Can visualise beyond words."

Student quotes
Gamifying the curriculum
Although the 'Gut Feelings' exhibit was a big hit with students and visitors, the set-up was time consuming and it couldn't be used as a permanent installation. The medium of VR is more sustainable and portable. With this in mind, we created a VR biofilm from a confocal microscope image of a real Pseudomonas aeruginosa biofilm on a glass coverslip. This was rendered, pixel by pixel, into a programme called UNITY to create a virtual microbial landscape. We then filmed our microbiology lab with a 360° camera to create a virtual lab that was stitched into the program to create the illusion that the user is performing a biofilm experiment in the lab.
Once our virtual biofilm was built, we could layer on a narrative, in which the user zooms down to microscopic size to learn about the biofilm structure up close. We went one step further with this prototype, to gamify the concept. The user selects different antibiotics and doses in an attempt to destroy the biofilm. The experience was designed as an engaging way to demonstrate how incorrect antibiotic use can drive the development of antimicrobial resistance. The value of games and competition to promote deeper active learning is well established. This approach targeted a young audience (13- to 26-year-olds ) but is also proving useful for engagement with clinical professionals and patients.
"It helps us visualise the concept so it sticks in our memory."

Student quote

This is so much better than a textbook; more teaching should be like this!"

Parent quote
Enhancing social healthcare experiences for isolated patients
The VR-Biofilms experience is based on chronic bacterial lung infections of patients with cystic fibrosis (CF). Feedback from clinicians and parents of children with CF has highlighted a special need for young people with CF, who can often feel isolated as they are not able to socialise together for risk of transmitting infection. The challenges of isolation have been keenly felt by all during the COVID-19 pandemic. VR applications could help to bring isolated communities together in a virtual world to share their experiences and understand more about their disease and medication. We are currently developing a virtual lung for a new XR exhibit called Microbial Puppet Masters that will be showcased at The Royal Society Summer Science Exhibition. This time, we are focusing on bacteriophages and the different ways that they interact with bacteria. It aims to enhance understanding about phage therapy, but also how phages can change the biology of bacterial hosts.
"Clearer, better understanding 'cos we can see it happening; better than PowerPoint."

"Really enjoyed it – worth coming."

Student quotes

"The game aspect will help students engage for longer."

Parent quote
Is XR sustainable as a learning tool?
We have used VR biofilms on mobile phones connected to VR headsets in teaching and at science festivals and stakeholder events. VR experiences can be downloaded onto personal mobile phones to be viewed via an individually owned kit that can vary from high tech and fully immersive to simple cardboard headsets. This format is becoming more widely accessible and has the potential for large-scale impact on populations that could not otherwise have access.
I believe that experiences like this can nurture multi-disciplinary thinking and inspire the next generation of scientists to think outside the box in tackling global challenges like antimicrobial resistance. The technology is moving fast, and there is a real demand for more interdisciplinary collaborations to develop sustainable educational XR suites that can adapt and evolve as both microbiology and technology move forward. Of course, the future of higher education should not rely on high-tech equipment alone. I see the use of XR in teaching as a primer for deeper enquiry and learning, and it is important to build discussion points and further resources around the experience.
"This will aid conversations about antimicrobial stewardship."

Hospital lab manager quote
Further reading
Morimoto T, Kobayashi T, Hirata H, Otani K, Sugimoto M et al. XR (extended reality: virtual reality, augmented reality, mixed reality) technology in spine medicine: status quo and quo vadis. J Clin Med 2022;11:470.
Pellas N, Mystakidis S, Kazanidis I. Immersive virtual reality in K-12 and higher education: a systematic review of the last decade scientific literature. Virtual Reality 2021;25:835–861.
YouTube. Virtual Reality Bacterial Biofilm 2018. https://youtu.be/Zf4S5nzqM1o.


Chloe James
Senior Lecturer in Medical Microbiology at University of Salford, The Crescent, Salford M5 4WT, UK
@drchloejames
@salfordscience
@scicommsalford
Chloe currently works as a senior lecturer in medical microbiology at the University of Salford. Her main research interests are in bacterial pathogens. Her latest work aims to better understand how temperate bacteriophages interact with their bacterial hosts. Active in science communication and public engagement, Chloe has developed a range of activities to increase public awareness and understanding of the microbial world. She is interested in how immersive technologies, art and public engagement can enhance learning about microbiology. The next event explores phage–bacteria interactions in microbial communities of a virtual reality lung and will be showcased at The Royal Society Summer Science Exhibition this July.
What inspired you to become a microbiologist?
My mum told me about the trips that our next-door neighbour went on – collecting weird and wonderful samples to understand more about how diseases spread. I found this absolutely thrilling and wanted to know more.
What do you love most about your job?
I love the variety of my job. No two days are ever the same. I get to talk with all kinds of people about the invisible world that fascinates me. I learn something new every day and immediately want to share it with someone else.
---
Image: Teaching biofilms in AR. UoS technical services at Media City, UK.