Focused Meetings 2022
Issue: Engaging Microbiology
17 May 2022 article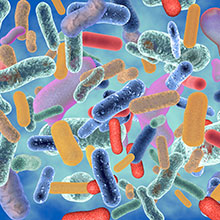 The Society organises a varied programme of Focused Meetings each year, with the aim to bring together those with shared scientific and clinical interests to shape the future of microbiology, strengthen membership networks and enable knowledge exchange. Following disruption to our events schedule in recent years, we are planning to deliver our most ambitious and varied meetings programme in 2022, featuring a variety of postponed meetings alongside some newly planned meetings covering the depth and breadth of microbiology.
Further information about any of the Society's Focused Meetings can be found online on our event web page.
Microbial Cycling of Volatile Organic Compounds
25–26 May 2022
John Innes Centre, Norwich, UK
The first Focused Meeting of the year will bring together those working within the field of Biogenic Volatile Organic Compounds (BVOCs). The meeting will address recent advances in the field of BVOC microbiology, such as the discovery of new degradation pathways, the role of BVOCs in inter- and intra-species signalling, new techniques to explore the volatile metabolome and synthetic biology approaches to create novel BVOCs.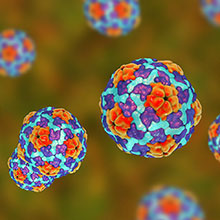 Europic 2022
5–9 June 2022
Harrogate Majestic Hotel & Spa, Harrogate, UK
Europic is the premier world virology conference that focuses on studies of picornaviruses, a family of important human and animal pathogens including enteroviruses (e.g. poliovirus, rhinoviruses, EV-A71, EV-D68), hepatitis A virus and foot-and-mouth disease virus, as well as many other viruses whose number is growing by the day with new discoveries.
The Microbiology Society is delighted to be hosting the meeting in 2022 to bring together the international community to hear about the latest advancements in the field of picornaviruses and enjoy numerous networking opportunities to help strengthen relationships within the scientific community.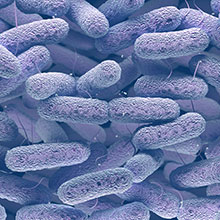 Cell–Cell Communication in Bacteria – Fundamental and Applied Aspects
28–30 June 2022
University of Cambridge, Cambridge, UK
Communication between single species and within polymicrobial communities has profound impacts on host–microbial interactions in the context of health and disease, and its understanding offers diverse translational opportunities in medicine, agricultural and industrial contexts.
The Cell–Cell Communication in Bacteria (CCCB) Focused Meeting will bring together a multidisciplinary audience of microbiologists, structural, systems, evolutionary and synthetic biologists, mathematicians, chemists, biochemists and ecologists and will provide a vital forum for the dissemination and exchange of new information and to foster the next generation of scientists working in this area.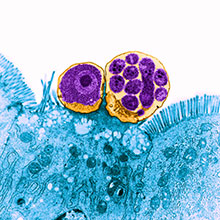 What's new in Cryptosporidium?
4–5 July 2022
Swansea University, Swansea, UK
Cryptosporidium is the most common parasitic cause of gastroenteritis in the UK and one of the most important contributors to the burden of childhood diarrhoea morbidity and mortality globally.
This one-and-a-half-day meeting will provide an opportunity to those working in clinical, industrial, veterinary and agricultural settings to hear about advances in the field, share good practices and establish collaborations with others across science, industry, public and environmental health, and clinical and veterinary practice.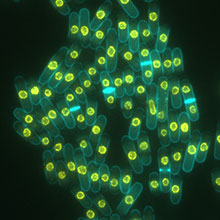 British Yeast Group 2022: From Genomes to Cells
7–9 September 2022
University College London, London, UK
Yeasts are very versatile, model unicellular eukaryotes that have been extensively used for over a century to explore fundamental aspects of living systems. Annual gatherings of the British yeast community have taken place since the 1980s, and the Microbiology Society is pleased to be incorporating the BYG meeting in its Focused Meeting Programme for the fifth time next year. The programme will feature attractive, assorted talks from invited speakers and will provide plenty of opportunities for early career researchers to present their research through posters and offered oral presentations. The meeting will include a varied social agenda providing opportunities to make new connections and strengthen the yeast community in Britain and beyond.
You can view the associated collection of peer-reviewed content on yeast from across the Society's publishing platform at microbiologyresearch.org/content/yeast.
Genomes of Microbiomes
15–16 September 2022
Edgbaston Park Hotel and Conference Centre, Birmingham, UK
The field of microbial genomics is progressing rapidly and has attracted growing interest within the research community of microbiologists. This meeting will bring together an audience of researchers who are keen to hear about how advances in sequencing technologies and computational methods can be best exploited to understand the microbial world.
One recent highlight in microbial genomics has been the redefinition of our understanding of evolution and microbial diversity using metagenome-assembled genomes (MAGs), as well as the wider issues around obtaining genomes from microbial communities.
This meeting will provide a forum for the discussion of the impact of MAGs, including how they should be incorporated into public databases, metagenomics advances in general, and the contributions technologies are making toward more readily achieving complete microbial genome sequence assemblies.
You can view the associated collection of peer-reviewed content on the microbiome from across the Society's publishing platform.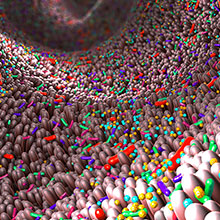 Gut Microbiome and Mucosa-Associated Infectious Disease: Mining for Antimicrobials and Postbiotics with Therapeutic Potential
27–28 October 2022
Trinity College Dublin, Ireland
With the emergence of antibiotic resistance and the decreasing effectiveness of antibiotics there is growing interest in the potential of mining the gut microbiome for new antimicrobials.
This Focused Meeting will provide an insight into the current state of research on the exploration of the interactions between the gut microbiota, pathogens and the mucosal immune system in the search for new alternatives for the treatment of infectious disease.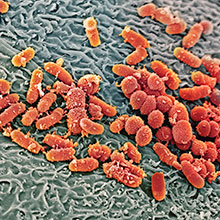 Protein Secretion at the Host–Pathogen Interface
3–4 November 2022
Queen's University Belfast, Belfast, UK
Bacterial infections remain one of the top causes of human suffering and death globally and have a huge economic impact on agriculture and animal production. The ability of nearly all important bacterial pathogens to cause disease depends on secretion systems, which deliver virulence factors to the surface or directly into host cells, where they modulate host processes to the benefit of the bacteria.
There have been plenty of new scientific discoveries pushing our understanding of the molecular basis of host–pathogen interactions to new levels, and this meeting has been organised to foster the exchange of information, networking and new collaborations across the research community.

Understanding and Predicting Microbial Evolutionary Dynamics
22–23 November 2022
Hyatt Regency Manchester, Manchester, UK
This meeting will bring together leading researchers working on microbial evolution from across varied disciplines, including infectious diseases, genomics, environmental microbiology, biotechnology and mathematical modelling. This will provide a unique opportunity to allow this multidisciplinary community to identify the common themes and shared approaches for understanding and predicting microbial evolutionary dynamics across these diverse systems and applications.
---
Call for 2023 Focused Meeting proposals
Have you got an idea for a Focused Meeting?
All members of the Society are welcome to submit a Focused Meeting proposal covering any area of microbiology. If approved for inclusion in the Society's events programme, the meeting will be delivered in collaboration with the organising committee, who will lead on the scientific aspects, and the Society's Conference and Events team, who will provide full secretarial support and manage all logistical and operational aspects.
We're currently seeking proposals for the Society's 2023 Focused Meetings programme. Find out more online or email us at [email protected] if you wish to discuss your idea for a meeting proposal. The deadline for submissions is 9 June 2022.
---
Image: iStock/Jung.