From the President
Issue: Engaging Microbiology
17 May 2022 article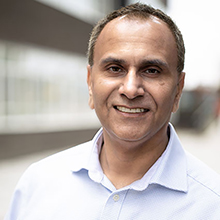 Welcome to the May issue of Microbiology Today and my first issue as President of the Microbiology Society. I want to start by thanking you all for such a warm welcome to this new role, which was especially evident at the Society's Annual Conference in Belfast last month. The event provided a fantastic opportunity to meet many of you and talk about how the Society can continue to work towards its principal goal: to develop, expand and strengthen the networks available to our members so that they can generate new knowledge about microbes and ensure it is shared with other communities.
Annual conference may be over, but we have a busy programme of Focused Meetings planned for 2022, which you can read more about in this issue. These events will offer further opportunities for discussion to take place, collaborations to form and new connections to be made across our diverse community. There will also be many other events, including continuing the President's Roadshow series, as part of the Society's commitment to developing, expanding and strengthening the vast networks and opportunities available to members and local communities. I look forward to speaking to many of you at these events about your research, your interests and your ideas. The Society belongs to the members, and so we want to engage with members to understand what you need. Visit the events area of the website to find out more about the full 2022 events programme.
It's incredibly important to me that the Society supports those who are faced with challenging circumstances that have an impact on their careers. I'd like to encourage those who are in that situation to consider applying for our Unlocking Potential Grant, which is designed to help early and mid-career microbiologists to deal with circumstances that may hold them back from achieving their full potential. Recipients will be able to select elements of their support package, which will include access to trained professionals, mentors and coaches who will work to identify a way forward and provide support. The grant is supported by generous donations to the Unlocking Potential Fund, which was launched in mid-2021. You can still donate to this fund, read about why others have done so and find out more about applying for the grant (deadline 6 June 2022 ) on the Society website.
There are several other ways for members to get involved outside of our events and grants programme. Our Council, Committees and Divisions are absolutely essential to the work that the Society does. Together they form a cohesive network of discussion, information-sharing, collaboration and decision-making which forms our strategy and delivers quality activities. Elections for those who have been nominated for positions on the governing bodies of the Society will open later this month, so please keep an eye on your emails for details on how and when to vote, and get involved by using your vote to help shape your Society.
We are also currently inviting nominations for the Microbiology Society Prize Lectures, awarded in to recognise significant contributions to microbiology. The awards acknowledge the potential of microbiology research and champion the contributions made by microbiologists and their work in addressing global challenges. The Society is committed to creating and encouraging a diverse and inclusive culture within our membership and the microbiology community, so please consider the full breadth of the field when making nominations. Submit your nomination by 26 May 2022: more details are available on the Society website.
I am looking forward to talking to many of you at events and through other activities in the coming months, to understand and improve what the Society can do for you.
Gurdyal Besra
President