Inspiring the next generation of microbiologists through outreach: early beginnings matter!
Issue: Engaging Microbiology
17 May 2022 article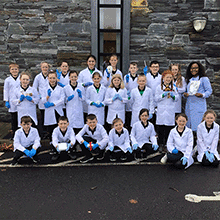 My earliest memory of outreach and public engagement in education was in high school in Nigeria. My biology and chemistry teachers (Mr Ashu and Mr Akpan) had selected me to facilitate science exhibit stands as part of the graduation event for leavers that year. The biology exhibit was based on building a model of the nephron and explaining its structure and function, while the chemistry exhibit showcased two phenomena, 'the burning bush' using a handkerchief and 'smoke without fire'. Although I was extremely nervous, I stood there all day that Saturday and explained my exhibit and answered questions from students, parents and other VIPs who attended the event. I still think of that memory fondly and I believe this was the beginning of a passion to inspire other young people like myself to pursue their goals and careers.
My absolute passion is education for children and young people, so I guess that is what inspires me to do outreach. As early as my high school days and as an undergraduate, I would give motivational talks to young people at numerous high schools during assemblies and offered my free time teaching free tutorials in subjects like maths, english, biology, chemistry, physics and geography. However, looking back at my childhood, I cannot remember ever meeting a scientist once, and though I had excellent science teachers in secondary school, I never saw a scientist at work and never met one who explained to me what science was about and what they did every day for a living or the impact their work had in the world. In fact, before enrolling at university for a microbiology degree, and studying to be a scientist myself, I had no real-life scientists/role models to look up to. I didn't fully understand what the subject of microbiology entailed, only that it was an allied medical science degree. You see, when I was growing up, you studied to become a doctor, lawyer, engineer or accountant or nothing, as anything else was not as prestigious. I ended up in the sciences because the science subjects were the most intriguing for me and because I love a challenge. I couldn't get enough of logic, integration and differentiation, the wonders of life, the many chemical reactions of elements in nature and the world of electromagnetic waves, etc. Even though I fell into microbiology, my love for the subject continues to increase, and I am convinced that it is one of the most versatile areas of study, with endless opportunities to work in many spheres of life. I believe microbiology doesn't get the publicity it deserves.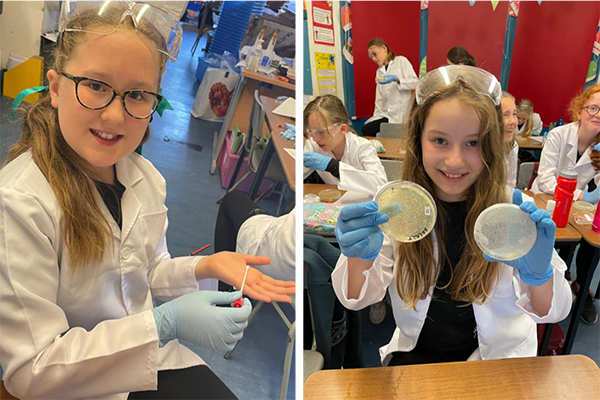 Combining my love for microbiology and my desire to inspire and contribute to the education of young people became a reality when I first got involved in microbiology outreach as a Microbiology Society Champion. I was studying at Aberystwyth University at the time, and Dr David Whitworth mentioned that the Society Champions Scheme was kicking off. I jumped at the idea of promoting the Society through outreach, especially as we would be reaching young people and the public. He helped to look over my application to the Society for an event for Science Week and with organising and recruiting undergraduate student volunteers to help with the activity, etc. After that, I went on to organise other successful events during Biology Week in subsequent years.
Another opportunity to be involved in outreach arose when my PhD supervisor, Professor Sharon Huws, signed up for the Soapbox Science event in Swansea in 2016. She was looking for someone to dress in a cow costume to help at the event and I volunteered. My daughter and I wore matching cow onesies and wheeled a sheep model eating fresh grass through Swansea city centre. We were undoubtedly a great spectacle with a lot of prying eyes watching us. Needless to say, our costumes drew a lot of people to the stand. This event opened my eyes to another dimension of outreach – community outreach – which was essentially communicating your science to people of all ages in a comprehensible and relatable way. I learnt the importance of touching on how our research may impact the everyday life of the people listening to us. Thereafter, I took every opportunity I got to be involved in events of this nature, e.g. hosting a Microbiology Society stand and assisting in many events like the Royal Welsh Agricultural Show, NI Science Festival, the Balmoral Show, etc., taking inspiration and resources from many colleagues along the way.
"I liked the fact we got to dress up as scientists and I enjoyed using the test tubes. I am very proud of the results I have gotten."

Pupil

"Linda, thank you so much for that session this morning. It was so interesting and educational and fun all at the same time…"

Teacher

"My daughter came home and told me all about it, she really enjoyed it!"

Parent
Naturally, when I moved to Belfast in 2017, I immediately noticed the gap and opportunities for outreach. Firstly, although there were many excellent schools that my daughter could choose from, I was somewhat surprised and a little disappointed that many of their prospectuses showcased their strengths and programmes in subjects in the arts and sports, and very little was promoted in the sciences. I thought a great opportunity was being missed to inspire the love of science, and more specifically microbiology, especially as there were quite a few all-girls schools. So, I decided to start my outreach from that standpoint. For me, education (in whatever form that may be) is the most important tool a child can have. It is important to me that every child, especially the girl child, knows that studying science is exciting as well as rewarding and that nothing is impossible to achieve. I want every child to believe that they can do anything, they can be scientists, and even better, they can be microbiologists! We can certainly achieve this, but we must start when they are young, just like theatre, instrumental and musicianship lessons are introduced at a very young age. I thought, "wouldn't it be great if a child experienced what it was like to be a scientist, and already started to think about a possible career in science, before they go to high school?"
Now, I don't mean to say that no science-related workshops and/or visits were offered in schools. Of course, slime experiments and colourful explosions are excellent for inspiring interest and exciting a young mind, but I think we must offer something more! We must make our science meaningful to young people, they must see it as a possible vocation, where they too can make an impact and a difference in the world they live in.
"Thank you so much for our workshop this week. The children really enjoyed looking at their petri dishes and designing microbes yesterday. It was GREAT!"

Teacher

"I think the process was the most fun but seeing the results… was interesting. I really enjoyed it and it encouraged me to be a scientist in the future."

Pupil
Consequently, the kind of outreach I deliver aims to inspire young children and youths through contact with real-life scientists using easy-to-follow, pupil-led, hands-on activities on topical and relevant topics in microbiology and science-related subjects. Through these activities, I hope to perhaps show them the myriad of opportunities they have should they become scientists, and specifically microbiologists, and what difference they could make in their immediate community and the world at large. The Champion Scheme really gave me an excellent platform to do this work, as I was not only sharing my research but also felt proud to be representing my professional society as well as my lab group, who support me wholeheartedly in this venture.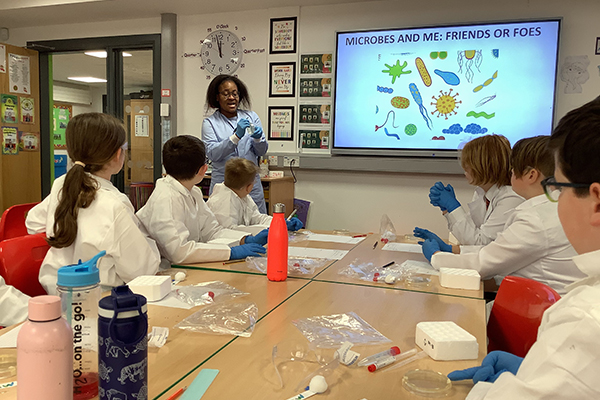 This academic session, I opened up the schools' outreach programme I tagged 'MyScience Microbiology Champions Activity' to all primary schools in Northern Ireland, which was promoted as a case study on the STEM Ambassador NI Hub with support from the Society. This included an offering of six topics from which schools could choose. I received a tremendous response, with 66 schools signing up. So far, I have reached 35 schools (seven virtually and 28 in person), reaching 1,646 pupils in key stage 2, mostly in the final year of primary school. I have also been grateful for the opportunity to train other colleagues and undergraduate and research students who have accompanied me on some school visits. We get excellent feedback from many pupils, parents and teachers alike, with many of them wanting to make it a more frequent event.
Ideally, my vision is to get tangible science, and specifically microbiology, into primary curricula, so that science is not just a one-off workshop but becomes part of their learning, preparing them for future careers. I have made some hands-on follow-along videos on topical microbiology issues which can be adapted by schools and teachers to deliver these activities themselves to pupils with input from scientists.
"The pupils (and staff!) really enjoyed being scientists for a wee while! We would love you to come back in at any stage to work on any area within science – it was all such a valuable experience for our pupils."

Teacher

"I liked how I got to dress like a scientist and swab the plates, it was really fun to do everything by myself and liked seeing all the microbes growing from the keyboard. I would like to do more experiments to know whether they were good or bad microbes…"

Pupil

Linda Oyama
Lecturer in Microbiomics, AMR and One Health at Queen's University Belfast, Northern Ireland
@LindaOyama
@MyScience_UK
LinkedIn: MyScienceUK Microbiology
Linda contributes to teaching and learning, and research excellence at Queen's University Belfast. Her research focuses on the study of microbiomes to tackle key societal challenges, including antimicrobial resistance and infectious diseases in the clinical and agricultural sectors.
Why does microbiology matter?
If we consider the phenomenal number and scale of microbial life on our planet, it is easy to see why microbiology matters. For instance, there are 100 million times as many bacteria in the oceans as there are stars in the known universe. Therefore, microbial life, albeit mostly considered a problem, and the study of microbial life (microbiology) potentially holds the answer to many scientific questions across species, habitats and planets.
What advice would you give to anyone interested in outreach work?
We are surrounded by many inspiring colleagues already doing outstanding outreach work. We see further by standing on the shoulders of giants, so take advantage of them in your quest to do the work you are passionate about. They are always willing to share insights and help.
---
Image: Linda Oyama.