Reviews
Issue: Engaging Microbiology
17 May 2022 article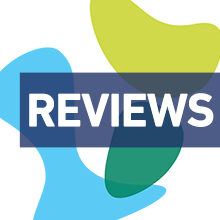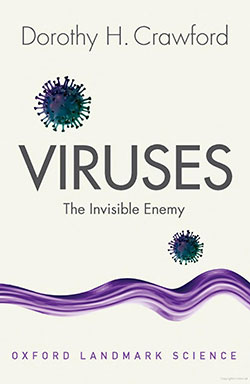 Viruses: The Invisible Enemy
By Dorothy H. Crawford
Oxford University Press (2021) £9.99
ISBN: 978-0-19284-503-0
The knowledge and years of experience as a renowned virologist are reflected in the book Viruses: The Invisible Enemy, written by Professor Dorothy H. Crawford, Emeritus Professor of Medical Microbiology at the University of Edinburgh. The idea of understanding the basic principles of virology can be daunting. It is challenging to comprehend with clarity and depth that viruses are not alive but can be transmitted and depend on their hosts to multiply their genetic information effectively. The inherent ability of viruses to infect and adapt to new hosts, including humans, can cause a plethora of diseases and conditions of great significance to public health.
Professor D. H. Crawford expertly summarises relevant scientific facts, interesting information and diverse examples of human viruses that are known to date due to their medical importance. Her writing style is truly engaging as it allows the reader to navigate through complex information with ease, with her stories flowing seamlessly from one part to the next. Despite the degree of specialisation that a virology book might require to be understood, the terminology used in Viruses: The Invisible Enemy is appropriate for readers from different backgrounds and levels of expertise. In addition, this book contains illustrations, figures, tables and maps that facilitate the description and understanding of complex information.
Viruses: The Invisible Enemy takes the reader through important aspects of virology masterfully. In her book, Professor D. H. Crawford explains what viruses are and includes basic information about their morphology, molecular biology and way of transmission. In addition, she includes brief and interesting examples of the history and discovery of modern emerging viruses, viruses that cause severe/acute infections, viruses responsible for long-term diseases and viruses that have been associated with an increased risk of different types of cancer.
This is a very special book, not only because of the way complex information is clearly explained, but also due to its relevance in our day-to-day lives. The current pandemic has pushed our society to understand more about viruses, cutting-edge technologies and advances in science. This book provides tools to achieve such understanding, since it includes a section about the SARS-CoV-2 virus and the illness that is causes, COVID-19, which is responsible for the ongoing pandemic. Viruses: The Invisible Enemy is a comprehensively written and well-balanced book that also contains insightful information about vaccines, antiviral treatments and future perspectives in virology.
In conclusion, Viruses: The Invisible Enemy is an excellent book, suitable for students, young or senior academics, scientists and the general public. I would thoroughly recommend this book to anyone interested in understanding general aspects of modern virology in a clear and delightful manner.
Karen Campos-León
Former Fellow Postdoctoral Researcher at the University of Birmingham, UK
---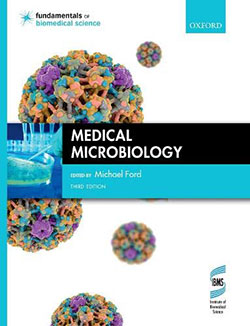 Medical Microbiology, Third Edition
By Michael Ford
Oxford University Press (2019) £34.62
ISBN: 978-019881-814-4
The book by Michael Ford is a valuable resource for any biomedical student studying Microbiology and eager to learn about the practical implications of their knowledge. It covers diverse areas of Medical Microbiology, starting from the basic understanding of culture media and commonly used microbial tests to the advanced knowledge of bacterial pathogenesis and antibiotic resistance through its thoughtfully structured chapters. Each chapter harbours lucid descriptions and adequate information to introduce and explain the key concepts while providing references for anyone interested in further in-depth study. Moreover, the online resources accompanying the book expand the learning opportunity beyond the scope of the printed pages. The third edition also features one of the latest advancements in the field – the whole microbial genome sequencing – that has revolutionized the understanding of microbes. The numerous self-check and discussion questions alongside the diverse case studies distributed throughout each chapter stimulate critical thinking in its readers, while providing the clinical relevance of the information. Finally, the hints to the answer to the questions at the end of the book make studying exciting like solving puzzles. Overall, it was a delight to read the chapters and navigate through the book. This third edition is a valuable update and just like the previous editions, I believe it will also be a useful textbook for students of Biomedical Sciences.
Sudeshna Saha
University of California San Diego Health, USA
---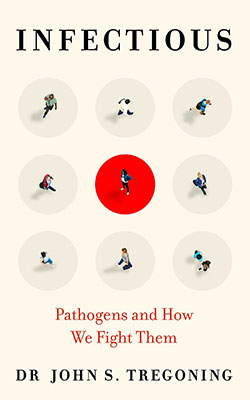 Infectious Pathogens and How We Fight Them
By John S. Tregoning
Oneworld Publications (2021) £12.79
ISBN: 978-0-86154-123-2
The book "Infectious Pathogens and How We Fight Them" is a great work done by Dr. John S. Tregoning, and his expertise in the field of microbiology is reflected in this book. The author has depicted historical and present scenarios of many infections, as well as the strategies that should be employed to battle them, in a methodical and persuasive manner throughout this book.
The author offers a good and live illustration of the "evolution of life" in Part 1 of the book, where one can feel everything happening right in front of their eyes. The author has discussed the evolution of organisms in a very elegant manner. The author is well-versed in a wide range of scientific disciplines, including biochemistry, environmental biology, molecular biology, immunology, and so on. It's fascinating to learn that our gut bacteria have a biological clock of their own and, as a result, may become jet lagged. In this book, the author has used the "simple to complex" or "general to specific" teaching technique to make it accessible to a wide range of readers.
A war is going on between humans and pathogens. On the one hand, the author has described various techniques like vaccines, antibiotics, etc., to fight with pathogens, while on the other hand, he has very well depicted different strategies adopted by pathogens for their survival in Part two of the book. The author has also given very insightful suggestions that should be followed by the government, scientists, researchers, and various organisations at different levels of society.
This book is written in such a way that even someone with no prior knowledge of science may grasp it. This book is the essence of all scientific discoveries and innovations.
Manita Paneri
Centre for Interdisciplinary Biomedical Research, Adesh University Bathinda, India
---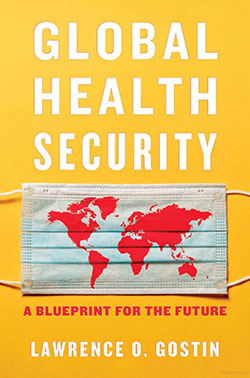 Global Health Security a Blueprint for the Future
By Lawrence O. Gostin
Harvard University Press (2021) £36.95
ISBN: 978-067497-661-0
This book has addressed the central question of global health security due to the series of pandemics experienced to date, with a special focus on the most recent and deadliest COVID-19. The evidence of the spread of the COVID-19 started in 2019 with approximately 450 million infections and 6 million deaths reported to the World Health Organization (WHO). The book clearly illustrates the actions taken by our government, health organizations and social media to manage this small but extremely pathogenic microorganism is of high interest and thorough reading. This book provides special insight for understanding beforehand preparation and planning to cope with the future pandemic threats due to the outbreak of deadly pathogens. The author has suggested a new paradigm to secure health with sustainable investment in research and developments and advocated several policies. The book also provides awareness and preventive measures, and ensures the blueprint for a more secure world.
The interesting ideas and blueprint have been authored by a highly (30 years) experienced professional in global health, who has directed the WHO Collaborating Center on National and Global Health Law. The author has also served two global commissions, evaluated the Ebola response in West Africa, served as key WHO expert committees over the years for numerous diseases like smallpox, pandemic influenza, viral genomic sequencing, and universal health coverage.
The fundamental urgency of global health security requires action from all four major sectors. The National Health Systems for rapid detection and response against novel outbreaks. The World Health Organization for global health security, but the failing coordination has been noticed in the COVID-19 pandemic and Ebola epidemic. The author has suggested strong governance for global safe health. Innovative research and development for top-priority medical countermeasures with modern medical tools, diagnostics, vaccines, medicines and a "peace" as security and dividend for an incremental investment every year. According to the world bank, the pandemic preparedness against emerging zoonotic diseases could offer a global benefit of $11.6-$26.6 billion.
The emergence of the novel COVID-19 has shown the world about our least preparation and ineffective responses. Despite actively monitoring the epidemic responses by the Center for Disease Control (CDC) and WHO, the COVID-19 pandemic has terribly impacted worldwide.
Altough the novel therapeutics and gene-editing CRISPR (clustered regularly interspaced short palindromic repeats) technology, disease vectors against mosquito encourages development of vaccines and supports extermination of the deadly diseases. As of now, WHO has eradicated smallpox and several deadly diseases can be avoided through vaccination and preventive medicines such as yellow fever, malaria, influenza A(H1NI), and Ebola. There is also an urgent need for understanding the diverse drivers of diseases such as rising population, loss of natural habitats, globalization, global warming, rapid travel, antimicrobial resistance. The clean drinking water, sanitation and hygiene, transmission of pathogenic virus by sharing needles and sexual partners to avoid water-borne diarrheal cholera and HIV/AIDS respectively. Like COVID-19, the mosquitoes transmit the deadliest diseases of Zika, dengue, chikungunya and yellow fever, malaria with large numbers of infections every year. Countless humans became infected despite these recent advances in mosquito control and disease prevention by using chemical, environment management, the bed net bacterium-Wolbachia to reduce the mosquito population and hence eliminate dengue. The regulations of global catastrophe, threat induced by Bacillus anthracis for biosafety and biosecurity, antimicrobial resistant tuberculosis controversial biomedical research related to the gain of function has tremendous potential for improving human health. Therefore, it is extremely essential to advance our investment in scientific research especially for vaccine development.
I strongly recommend this book to diverse readers, especially students, teachers, scholars, advocates, and young professionals involved in global health security. This book also extends high-level interest for the future policy makers, leaders for strong leadership and governance for secure global health.
Sweta Karan
University of California, San Diego, USA