Focused Meetings 2021
Issue: Fleming Prize Winners
20 October 2020 article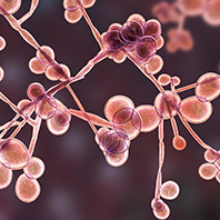 The Society organises a varied programme of Focused Meetings each year. These events bring together those with shared scientific interests in a broad range of microbiology topics.
Following the cancellation of our 2020 events programme due to the outbreak of COVID-19, the Focused Meetings that were scheduled to take place this year have been postponed and many have been incorporated into our 2021 programme.
Our Focused Meetings calendar next year will now feature an ambitious and varied programme of predominantly digital events, but we will deliver in-person events when it is appropriate and safe to do so.
We are continuing to adapt to the complex and changing set of challenges posed by the pandemic and will provide unique opportunities for scientific communities to strengthen relationships, share knowledge and hear about the latest research within their fields, while ensuring the safety and accessibility of all event participants.
Candida and Candidiasis 2021
#Candida2021
21–27 March 2021
Digital event
Following the postponement of the Candida and Candidiasis meeting, which was scheduled to take place in Montréal, Canada earlier this year, the meeting will now be delivered as a digital event. This vital online forum will bring together the Candida research community to present the latest advances and ideas to empower major ongoing efforts to understand, treat and prevent Candida infections.
The submission deadline for new abstracts is Friday 8 January 2021.
Other Focused Meetings taking place in 2021 include:
Anaerobe 2021
Avian Infectious Diseases
British Yeast Group 2021
Cell-Cell Communication in Bacteria – Fundamental and Applied Aspects
Microbial Cycling of Volatile Organic Compounds Biogeochemistry to Biotechnology
Mining the Microbiome for Antimicrobials and New Therapeutics
What's New in Cryptosporidium?
You can find information about abstract submissions, registration and other details on our entire events programme at microbiologysociety.org/events.
Have you got an idea for an event?
Our busy programme of activities is developed through event proposals from the Society's members and we're currently calling for suggestions for our events programme in 2022 and beyond. All Society members are invited to submit proposals covering any topic relating to microbiology, which will be considered by the Scientific Conferences Panel. The deadline for proposals is 14 December 2020. Visit microbiologysociety.org/events to find out more.