Increasingly Open: half year results
Issue: Fleming Prize Winners
20 October 2020 article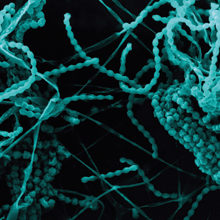 2020 has been a transformative year for the Society's journal programme. Publish and Read (P&R) was launched to facilitate more open access (OA) publishing. It is a model that repurposes institutional subscription fees, covering both OA publishing under CC-BY licence, together with access for faculty and students to microbiologyresearch.org under one annual fee, paid by libraries. Major funders like UKRI and Wellcome backed the model and encouraged uptake. In this article we tell the story of the results and impact of Publish and Read in the first half of this year.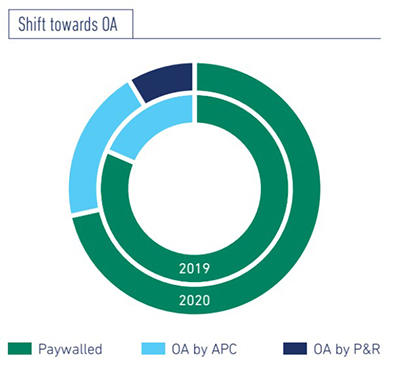 Impact
The timing was extraordinary. Just as we were launching P&R the pandemic bought lockdowns around the globe and a sudden, urgent need for our content to be easily accessible by vast numbers of researchers outside of their institution's network. In March, Council decided to make all Society journal content free to read until September 2020. That ease of access has meant a 23% increase in usage, with an average of 263,500 sessions per month.
This demonstrates the underlying need for broad-based access to our scientific content. The fast pace of scientific research into SARS-CoV-2 contributed to the numbers of articles published under P&R. There was also an urgent need for quick widespread communication amongst scientists.
Essential reads such as the review of humoral immune responses following SARS-CoV-2 infection by Paul Kellam and Wendy Barclay, and an explanation of the dynamic linkage of UK Biobank to PHE's Second Generation Surveillance System, attracted record numbers of shares, downloads and tweets. P&R authors have been active on social media, boosting Altmetric scores and helping their articles rapidly accrue citations.
Extent
National library consortium groups helped hugely to promote P&R to their members and account for the high concentrations of opt-ins within the UK and Australia/New Zealand. We share with them an overall aim to achieve open access to research for societal benefit, in compliance with mandates from national funding bodies.

In the first half year we have delivered on goals of P&R which were for a higher proportion of what we published to be OA, 28% of articles published this year so far are OA, and to offer an administratively easy, alternative to author paid APCs.
Further reading
Kellam P, Barclay W. The dynamics of humoral immune responses following SARS-CoV-2 infection and the potential for reinfection. J Gen Virol;101:791–797.
Armstrong J, Rudkin JK, Allen N, Crook DW, Wilson DJ. Dynamic linkage of COVID-19 test results between Public Health England's Second Generation Surveillance System and UK Biobank Open Access. Microb Genom;6:mgen000397.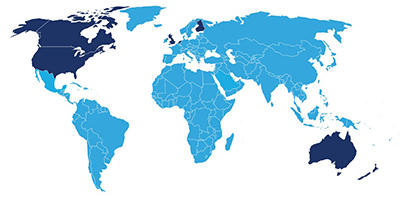 Help us help you
One of the easiest ways to support the Society is to publish in our journals. Check to see if your library has signed up at microbiologyresearch.org/fee-free-open-access, and if they haven't please get in touch: we have resources to help you advocate for P&R with your university librarian and OA office.

Gaynor Redvers-Mutton
Head of Business Development and Sales