Spotlight on Grants: Research Visit Grant
Issue: Fleming Prize Winners
20 October 2020 article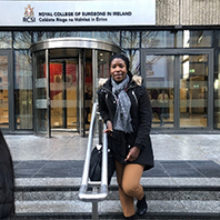 Research Visit Grants support a variety of short visits to host laboratories with the aim of supporting innovative projects within established collaborations and to develop new collaborative initiatives.
Last year, BHF-funded postdoctoral research associate Dr Sylviane Yoba (University of Bristol, UK) was awarded a grant to support her research visit to the Cardiovascular Infection Research Group led by Professor Steve Kerrigan in RCSI University of Medicine and Health Sciences in Dublin, Ireland. The aim of this visit was to investigate the interactions between Streptococcus gordonii and human vascular endothelium. It was hoped that these studies would provide a better understanding of how the progression of infective endocarditis may occur if infectious microbes in the bloodstream attach to damaged areas of the heart.
Sylviane said that the visit benefitted her professional development as she developed new scientific techniques, as well as non-scientific skills, such as laboratory management. "Acquiring these experiences are beneficial as they are always attractive in terms of collaboration and recruitment."
Over the course of the visit, Sylviane was able to develop a range of new skills, as well as advancing her knowledge of working with endothelial cells. By challenging human aortic endothelial cells with bacteria under shear stress conditions that mimic those of the cardiovascular system, and visualising their interactions via fluorimetry, immunocytochemistry and confocal microscopy, Sylviane was able to determine the molecular mechanisms exploited by S. gordonii for binding to the luminal layer of the cardio vasculature and understand how this process can subsequently enhance interactions with blood platelets, with potential to exacerbate infection of the heart.
Sylviane said the highlight of her visit was "being able to develop a model that brought together bacteria, cardiac endothelial cells and platelets under shear stress, thereby closely mimicking the conditions that enable infective endocarditis to occur. Given the complexity of the model, we were not sure whether our experimental plan would work, and so we were delighted when we were able to observe platelets attaching to infected endothelial cells."
The studies Sylviane completed during her visit allowed for the identification of potential endothelial cell receptors and, going forward, Sylviane would like to investigate the role of these receptors in detail.
Applications for the Research Visit Grant open twice a year, in January and June, with deadlines in April and October, respectively. To find out more about the wide range of grants available to support Microbiology Society members, visit the grants area of our website.