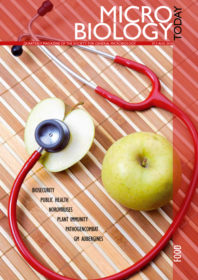 To view and print this document, you will need to download Adobe Acrobat Reader.
Food
01 August 2010 publication
The lead articles of the August 2010 issue of Microbiology Today are on biosecurity; public health; noroviruses; plant immunity; PathogenCombat; and GM aubergines.
Food security, microbiology and research – Monica Winstanley and Celia Caulcott (p. 150)
As the human population continues to grow, ever greater demands are placed on food production. What contribution can microbiologists make to ensure that the supply of food to all people is secure in this uncertain and changing world?
Surveillance of the microbiological quality of imported food by the Health Protection Agency – Niamh Murphy (p. 156)
The UK is no longer self-sufficient in food production, and we are completely reliant on imported food to feed the nation. How can we be sure that the food we import is safe for human consumption?
Beware the buffet: noroviruses as a cause of food-borne gastroenteritis – Ian Goodfellow and David Brown (p. 160)
Even if we have never succumbed to it, we are all familiar with the sickness caused by noroviruses due to high-profile media coverage of outbreaks in various closed communities, such as hospitals and cruise ships. But how extensive are noroviruses in our food chain and what can be done to prevent outbreaks in future?
Karma chameleons – how bacterial plant pathogens escape their fate in disease-resistant plants – Gail M. Preston and Dawn L. Arnold (p. 164)
The immune system of plants can be unstable in the face of rapidly evolving micro-organisms, and pathogens that can evade recognition can spread with alarming speed through a plant population. What is the reason for this inherent instability, and how can disease control be improved?
PathogenCombat – reducing food-borne disease in Europe – Mogens Jakobsen (p. 170)
To provide information on control and prevention of emerging pathogens at the cellular and molecular level throughout the food chain, a 5-year EU-funded project, PathogenCombat, was set up in 2005. As this project nears its end, what has it achieved?
The story of Bt-brinjal in India: why it is not required – Pushpa M. Bhargava (p. 174)
In late 2009, the Minister for Environment and Forests in India delayed the previously approved release of genetically modified aubergine plants (Bt-brinjal). Following a series of consultations, the Minister took the decision in February 2010 to place an indefinite ban on the proposed release.
Comment: Guardians of microbial diversity – Paul Hoskisson (p. 200)
The decline in culture collections in the UK and Europe is of great concern. How can the long-term future of these guardians of microbial diversity be guaranteed?
Schoolzone (p. 178)
As holiday season approaches, Dariel Burdass provides a lesson on the perils of micro-organisms on holiday, and Shormila Routledge and Vanessa Wong describe their recent efforts to inspire pupils between the ages of 13 and 19 at National Science and Engineering Week.
Gradline (P. 182)
Nicola Cumley describes her experiences on the Research Councils UK Researchers in Residence programme, and Gemma Walton summarizes some of her recent outreach activities.
Going Public (p. 186)
We all know what 'new media' is, or do we? Laura Udakis takes a look at the many different applications covered by this term. Dariel Burdass informs us about SGM's involvement at annual Royal Society of Chemistry Science and the Assembly event in Cardiff, and Nicola Stanley-Wall tells us how she used an SGM Public Engagement with Microbiology Awards grant to promote public understanding of the subject. The combination of science and art is always fascinating, and artist Luke Jerram has produced some amazing glass sculptures of various viruses and micro-organisms. If your artistic skills are not up to much, how about doing a bit of 'microbiological' cookery – Kim Hardie and Jo Verran make bacterial culture tarts!