Annual Conference 2016
Issue: Fungal diseases
09 February 2016 article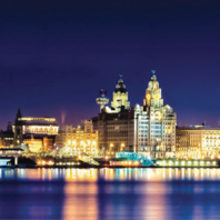 21–24 March, ACC Liverpool
#Microbio16
The programme for this year's Annual Conference will be even bigger than before. With the conference attracting more speakers, exhibitors and delegates, it is an event not to be missed!
In addition to the full scientific programme, there will also be the following activities.
Pre-Conference Networking Workshop
Sunday, 18:00–20:00, Hall 2N
On Sunday evening we will be holding our popular pre-Conference workshop. This is aimed at undergraduates, postgraduates and postdocs who are new to conferences or who want some tips on making new connections. The workshop includes activities to hone your networking skills and enhance your conference experience, as well as providing a chance to meet fellow delegates in advance of the Conference.
The event requires pre-booking during conference registration – the ticket price is £12.00 per person and includes dinner. We hope to see you there!
Live at Lunch sessions
EARLY CAREER FORUM LAUNCH EVENT
Monday lunchtime, Hall 2F
The Society is establishing a Forum for student and early career members of the Society. Early career members will be invited to join the Forum, which will be steered by an Executive Committee elected from within the group. Join the President and Chair of the Professional Development Committee in a lunchtime session to find out more about the roles that will be up for election during 2016.
AN AUDIENCE WITH…
Tuesday lunchtime, Hall 2F
Join Benjamin Thompson, Head of Communications, for an informal Q and A with our Prize Medal winner Professor Philippe Sansonetti. This will be an opportunity to find more about how Philippe discovered microbiology, a bit about his background, his first hand hints and tips on how he developed his career, his breakthrough research, and some of his highlights and challenges thus far.
BIG DATA OR BUST
Tuesday lunchtime, Hall 2N
This one-hour lunchtime session is intended to stimulate discussion and raise awareness around this timely subject of data sharing and integration in the context of pathogen genomics. During the hour there will be an interactive panel and audience discussion chaired by the PHG Foundation. It will help inform the value of effective and responsible data sharing, and the challenges to data sharing and integration.
INTERNATIONAL COMMITTEE ON TAXONOMY OF VIRUSES
Wednesday lunchtime, Hall 2F
Join the International Committee on Taxonomy of Viruses as they host a live debate on virus speciation and phylogeny. The debate will be chaired by Ursula Gompels, who will ask the panel challenging questions and there will be a live vote. It will be followed by a networking session.
Prize Lecture Winners
Main Plenary Hall 1A
PETER WILDY PRIZE LECTURE
Professor Wendy Barclay
Monday, 18:10
MICROBIOLOGY SOCIETY PRIZE MEDAL LECTURE
Professor Philippe Sansonetti
Tuesday, 09:00
FLEMING PRIZE LECTURE AWARD
Dr David Grainger
Tuesday, 18:10
MARJORY STEPHENSON PRIZE LECTURE
Professor Steve Oliver
Wednesday, 09:00
UNILEVER COLWORTH PRIZE
Professor Gurdyal Besra
Wednesday, 18:10
Small World Initiative (SWI) Project
Monday all day, Hall 2F
The Small World Initiative is being supported in the UK and Ireland by the Microbiology Society and will give the general public, students and educators in the UK and Ireland the opportunity to work with scientists as part of a global initiative to discover new antibiotics from soil bacteria. It has initially run in undergraduate courses at six universities and in eight school partnerships. A series of 'pop-up' events is giving the public the opportunity to submit their soil samples and track the analysis process. If you would like to run the Initiative in your university, form a partnership with a school or if you are interested in the Citizen Science project, come to this session. You can also visit the Society's stand at the Conference for information.
Meet the Speaker
Monday–Wednesday, 19:30–20:30, Lower Gallery
Each evening we will be providing delegates and guests the opportunity to meet and greet some of the key speakers appearing at this year's event. Located in the Lower Gallery with nibbles and comfy seating this event will provide you the perfect opportunity to ask those pressing questions. Check our programme at the Conference for who will be making a guest appearance.
Live Debate
Tuesday, 19:15, Hall 2N
Why not join Jake Dunning and Stuart Nichol, who will be our hosts this year for our lively debate? The debate will focus on the human face of Ebola and Ebola trials. Following this, we will provide some time and reflection to our members who have worked on the front line, looking at pictures and commending their contribution to this research.
Social Programme
MICROROC
Monday evening, Poster and Exhibition Space
Society members will be airing their musical talents on stage. Council members Nicola Stonehouse (Leeds – vocals) and Steve Diggle (Nottingham – bass) will be joined by ex-Council members Matt Hutchings (UEA – drums) and Mark Harris (Leeds – guitar), together with Ville Friman (York – guitar), and some special guests.
SCIENCE SHOWOFF
Wednesday evening, Poster and Exhibition Space
You will have the chance to see a special gig from the highly recommended Science Showoff on Wednesday night. This is a chaotic science comedy cabaret featuring Steve Cross, and the gig will have a microbiology theme to showcase new ways to talk about and share the science of living things. Expect some guest stars from the Conference, taking the stage in a completely new way.
Food can be purchased on site and a cash bar will be open until 22:00. We hope you can join us.
CPD credits
Our Annual Conference has now been accredited by the Royal Society of Biology (114 credits), Institute of Biomedical Science (38 credits) and the Royal College of Pathologists (30 credits). Please ask the Professional Development team at the Conference for information or contact [email protected].
Online registration
Online registration is open until Monday 14 March. View the full programme and register today.
---
Image: Liverpool waterfront. ACC Liverpool..