Best of the blog
Issue: Fungal diseases
09 February 2016 article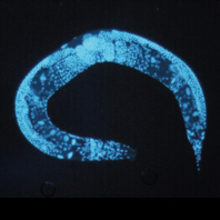 As we start to peer blinking into the light of a new spring here in the UK, it's time to have a little look back at some of the content we posted on our blog at the end of 2015.
Last year, Society member Dr Lucy Thorne visited the Uganda Virus Research Institute in Entebbe with support from one of our Research Visit Grants. Lucy kindly videoed her trip when she went to the laboratory of Professor Alison Elliott to find out how common intestinal viruses are in Ugandan children.
At the time of writing, the new Star Wars film is yet to be released (hopefully it'll be good); not such a long time ago, we had a post entitled Deadlier than Darth: Death by worm-star, which details work by Society member Dr Laura Clark on the discovery of a new species of bacteria that causes Caenorhabditis elegans worms to stick together by their tail spikes in lethal star-like formations. This post contains an amazing GIF that's well worth your time.
The last of our 2015 Focused Meetings was about the Industrial Applications of Metal–Microbe Interactions. Two blog posts came from research presented at the meeting: one, written by Anand Jagatia, about how microbes may help in the detection of arsenic in drinking water in Bangladesh, the other about research from the University of Edinburgh that is investigating the possibility of using bacteria to mine asteroids and Martian rock (no, really).
In other Martian news, I spoke to the astrobiologist Dr Lewis Dartnell about the recent discovery of liquid water on the Red Planet, and what this might mean for the field of microbiology. In the same episode, Anand spoke to Dr Kevin Newsham about the impact of climate change on soil fungi.
Lastly in this roundup, it's worth noting some of the places where new microbes have been discovered. Over the past few months, they've been isolated from such diverse locations as sea urchins in the Sea of Japan, the Russian wheat aphid and the faeces of penguins in the Antarctic.
BENJAMIN THOMPSON
Head of Communications
[email protected]
---
Image: Caenohabditis elegans. National Institutes of Health..