Grants
Issue: Fungal diseases
09 February 2016 article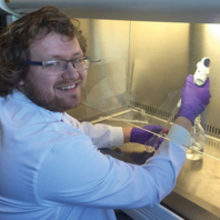 Where could a Microbiology Society grant take you?
Dr Lee Sherry is a postdoctoral researcher at ENS de Lyon, France. Lee previously undertook his PhD studying influenza viruses, with Dr David Jackson at the University of St Andrews.
During 2015, Lee received three different Society grants: a Research Visit Grant, to support a trip to the Institute of Medical Virology, University of Zurich, to work with Dr Jovan Pavlovic; a Society Conference Grant to present at our Annual Conference 2015 in Birmingham; and a Travel Grant to present at the American Society for Virology (ASV) 34th Annual Meeting in Ontario, Canada. We asked Lee how the grants have helped his professional development.
What did you do during your research visit?
We wanted to characterise the impact of specific mutations in our protein of interest, MxA, using biochemical analysis of purified protein. The Pavlovic group were welcoming, making it very easy to settle in. To learn protein purification, I shadowed one of Jovan's students, Patricia, who is an expert in MxA purification, having purified many mutants throughout her PhD.
I arrived in Zurich with my plasmids, ready to express the mutants. However, we didn't get great expression. As a result we changed the plan and I was only able to express and purify the protein – this was still a valuable technique that I was able to take back to the lab. I presented some of my work to the department in Zurich and received useful feedback that helped shape the rest of my PhD project.
How was your experience of presenting your research?
I gave oral presentations at both the Microbiology Society and ASV conferences. It was a little nerve-wracking to begin with but I quickly eased into the talks; by the end I was almost enjoying myself! The talks were well received, and I was asked some interesting questions, which were followed up during the breaks. The talks were great for networking and getting other perspectives on our work.
How did your experience of travelling, collaborating and presenting help your career?
The conferences were both helpful for learning how to succinctly disseminate my ideas in a short oral presentation; I can explain my work much more clearly now. The research visit had a big impact on my PhD project as the feedback received led to a completely new chapter in my thesis. My visit also broadened my search for potential jobs: I had previously only considered working in English-speaking countries, but after the trip I realised that I enjoyed working in a different culture even if I didn't speak the language. Now, here I am: working in Lyon, learning French as I go.
Any advice for PhD students looking to enhance their career prospects?
My main advice is to take advantage of any grants that are on offer. If there is an experiment that you would like to do but is not possible at your institute, check your eligibility for a Research Visit Grant. It is a great opportunity to learn a new technique, start a collaboration and even embrace a different culture.
To find out more about our grants, see our Grants pages.
MARIA FERNANDES
Professional Development Officer
[email protected]
---
Image: L. Sherry..