Reviews
Issue: Fungal diseases
09 February 2016 article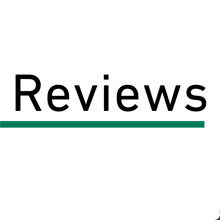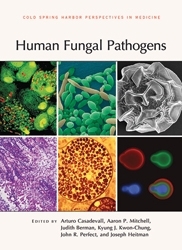 Human Fungal Pathogens
EDITED BY A. CASADEVALL, A. P. MITCHELL, J. BERMAN, K. J. KWON-CHUNG, J. R. PERFECT AND J. HEITMAN
COLD SPRING HARBOR (2015)
US$135.00 ISBN 978-1621820758
There are some very good texts on different types of infectious agents but there is a definite need for a good textbook devoted to fungal pathogens. The book, as the title indicates, is about the fungi that infect the human host. The focus is very much on the fungus (e.g. classification, evolution and genetics), rather than the human disease, which is fine if your interest is more in fungal biology than the role they play in disease. I believe that the book would have benefitted from an introductory chapter putting fungi in context of other infectious agents in the role that they play in human disease, and the expanding importance of fungi with increasing numbers of susceptible hosts due to HIV infection or immunosuppressive medical procedures. Also, I feel there should have been more about the clinical syndromes associated with fungi. There is a whole section on treatment but relatively little on diagnosis or drug susceptibility testing. In terms of diagnostics, newer molecular techniques are better covered than more conventional methods still widely used in some laboratories. Chapters are not numbered and there are no obvious delineations between groups of chapters into different sections, although the Contents page suggests that there are. This doesn't help with navigating around the book when in search of information. There is a vast amount of interesting and useful information, but in my opinion the content could have been laid out in a more logical fashion, with more clearly delineated sections (e.g. role of fungi in infectious disease, syndromes associated with fungal infection, mechanisms of disease, laboratory diagnosis, antifungal treatment and drug susceptibility testing, new development in the study of fungal disease), making it easier to find the information required.
CHRISTOPHER RING
Middlesex University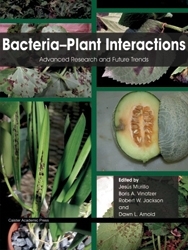 Bacteria–Plant Interactions: Advanced Research and Future Trends
EDITED BY J. MURILLO, B. A. VINATZER, R. W. JACKSON AND D. L. ARNOLD
CAISTER ACADEMIC PRESS (2015)
£159.00 ISBN 978-1910190005
A lot has been discovered recently in the area of bacterially made effectors that can modify different aspects of plant signalling. The opening chapter provides a useful integrative overview of evolutionary relatedness and targets of several of these effectors delivered to plants via the Type III secretion systems of various bacterial plant pathogens. One of the best models is Pseudomonas syringae, and so inevitably, there is some overlap with the chapter by Lindberg & Collmer, focusing on the transfer, evolution and mechanisms of loss and biological activities of effectors produced by P. syringae. The chapters on (a) the fire blight pathogen Erwinia amylovora, (b) Acidovorax spp., (c) Gram-positive bacterial pathogens and (d) human pathogens on plants, are all good perspectives on these areas, well referenced and would be a good starting point for people wanting an overview. Two chapters are related to biocontrol, and the final chapter is a summary of the biology of phages and how they may influence the populations of bacteria interacting with plants.
As a reference work, this book has two limitations. The first is that the most recent citations are from 2013. The second is that there are not focused chapters on pathogens from the Xanthomonas, Ralstonia, Xylella, Agrobacterium or Pectobacterium genera, all of which are among the most economically important plant pathogens. For example, there is no description of the xanthomonad Transcription-Activator-Like Effectors (TALEs) and how their internal repeats of amino-acid sequences define DNA recognition sites. Perhaps the absence of such chapters reflects the intended perspective of this book, but if that is the case, the absence of chapters on the associative or symbiotic nitrogen-fixing bacteria, or the rapidly developing areas of rhizosphere and phytoplane genomics is also a significant omission. If the book is aimed at generalists, then it is rather lacking in schematic models in most chapters. If it is aimed at specialists, then it has the problem of its citations already being a couple of years out of date. Perhaps I am reflecting on the impossibility of simultaneously having such a book be both up-to-date and comprehensive. Balancing the costs of books such as this, against the potential speed of publication and rapid availability of reviews via web-based publications, perhaps my reservations should be seen as more broadly questioning the viability of this genre of publication.
ALLAN DOWNIE
John Innes Centre
---
The below reviews are published online in addition to those in the print or PDF copy of this issue of Microbiology Today.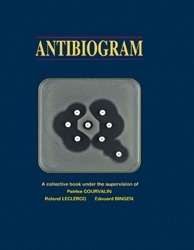 Antibiogram
EDITED BY P. COURVALIN, R. LECLERCQ AND L. B. RICE
ESKA PUBLISHING (2011)
US$100.00 ISBN 978-2747215459
This is an interesting book, in its third international edition, having first been published only in French. It is essentially a practical manual aimed at those engaged in routine antibiotic sensitivity testing. It starts with introductions to the biochemistry and genetics of resistance, followed by general coverage of phenotypic and genotypic testing and assays, which are very comprehensive. The second, and most substantial section of the book deals with antibiotic resistance profiling of specific groups of medically important bacteria. Each section deals with standard methods for assaying resistance in that bacterial group, such as susceptible phenotypes, followed by reviews of the resistance mechanisms employed by that specific group and finally the best antibiotics to assay for susceptibility in practice. The final section of the book deals with different practical techniques to assay for resistance. The book really is a tour de force of antibiotic resistance and its practical study. While it is not something everyone would want on their shelf, it certainly gives in-depth, authoritative coverage of the subject. One for the library.
PAUL HOSKISSON
University of Strathclyde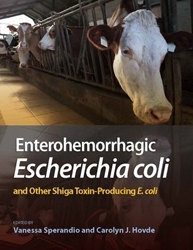 Enterohemorrhagic Escherichia coli and Other Shiga Toxin-Producing E. coli
EDITED BY V. SPERANDIO AND C. J. HOVDE
ASM PRESS (2015)
US$150.00 ISBN 978-1555818784
Shiga toxin-producing E. coli (STEC) was first linked to human disease in 1983 and has rapidly become one of the major foodborne bacterial pathogens in the developed world. Since the first edition of this book in 1998 (edited by J. K. Kaper & A. D. O'Brien), tremendous progress in the understanding of STEC infection has been made, and the publication of this second edition has been eagerly awaited by STEC researchers, clinicians and veterinarians. I very much enjoyed reading this comprehensive book, which provides an excellent review of our current knowledge about STEC, including its epidemiology, animal reservoirs, diagnostics, genetics and virulence factors, pathogenesis and host response, clinical aspects of disease and treatment strategies. In addition to "traditional" STEC, a separate chapter about the enteroaggregative O104:H4 STEC strain causing the severe 2011 outbreak in Germany has been included. Each chapter is written by one or several world-leading experts in the area and the first chapter introduces the reader to the history and landmark discoveries in STEC research. The book concludes with an outstanding final chapter outlining future challenges and directions of research, with the ultimate aim to develop much-needed treatment and prevention strategies.
STEPHANIE SCHULLER
Institute of Food Research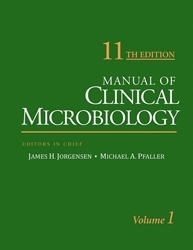 Manual of Clinical Microbiology 11th Edition Volume 1
EDITED BY J. H. JORGENSEN AND M. A. PFALLER
ASM PRESS (2015)
£215.00 (BOTH VOLUMES) ISBN 978-1555817374
The four-year revision cycle has yielded the 11th edition of the classic reference Manual of Clinical Microbiology (MCM11), with more chapters than MCM10 but retaining the two-volume format introduced with MCM8.
Volume 1 of MCM11 retains three sections, with a focus on general laboratory function, bacteriology and antibiotic resistance. Section 1 contains some classic overview chapters almost unchanged, but includes important new chapters, notably on diagnosis of bacteraemia, infection control and automation. Section 2 has updated descriptions of identification systems that address spectroscopic and nucleic acid-based approaches, with minor taxonomic adjustments. Section 3 notably has a new chapter on molecular detection of antibiotic resistance.
Minor criticisms of MCM11 Volume 1 pertain to prioritisation and accessibility. Too much space is devoted to detailed descriptions of obsolete or rarely performed assays at the expense of clinically relevant topics, especially antimicrobial stewardship. Furthermore, as a reference text, this volume would benefit from chapters containing additional subheadings as well as a more logical structure around technologies introduced into widespread use since MCM10.
Overall, Volume 1 of MCM11 contains valuable new chapters and updates that improve upon MCM10 and continues the tradition of a leading high-quality reference in diagnostic microbiology.
SUZANNE ENGLISH
University of Cambridge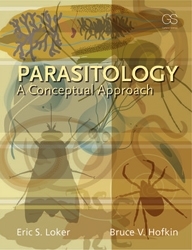 Parasitology: A Conceptual Approach
EDITED BY E. S. LOKER AND B. V. HOFKIN
GARLAND SCIENCE (2015)
£60.00 ISBN 978-0185344735
Any organism that exploits another to its detriment is a parasite; historically this term is reserved for the eukaryotic creatures that have adopted this way of life. Loker and Hofkin have maintained this whilst educating readers about the true definitions. Parasitology: A Conceptual Approach is an excellent text describing the principles of parasitism. This book has 10 concept chapters about parasite diversity and their way of life, describing how immune systems attack parasites and how they cause disease. Parasite ecology, the evolution of parasites, their role in conservation and the challenges associated with their control are all covered. Parasitism is better understood from this kind of approach than from the staid approach organised around systematic phylogeny. A potential failing with a concept rather than parasite approach is averted with a concluding "rogues' gallery of parasites". In an era where publishers often bundle random articles from disparate authors into uncoordinated collections masquerading as "texts", it is delightful to find Loker and Hofkin providing a cohesive piece with a logical progression.
Notable disadvantages: by rooting itself in broad concepts, it lacks depth in parts. Associated with this are some errors, e.g. folate isn't converted to thymidine, as suggested in the anti-parasite drugs section, rather its methylated derivative provides a methyl group to convert dUMP to dTMP. The relatively rare errors do not detract from the book's factual and stimulating portrayal of the key concepts and its easy-reading style. No student can fail to wonder about the impact of global warming on the distribution of disease-transmitting vectors – here, they can learn the current facts and likely futures.
The book includes the showbiz tales of grotesque parasitism, such as the isopod which sucks the blood from fishes' tongues until they atrophy, then replaces the tongue by taking up residence in its place, but the authors are always careful not to sensationalise the more controversial topics.
For "parasitologists" who might work within their own little niches of the conceptual whole, the book holds a treasure trove of facts. New technologies are changing our understanding of parasitism and new paradigms in their control are emerging. In all, I found this to be the best contemporary text available; it is essential reading for anyone wishing to learn about the ways in which one organism can live upon another.
MICHAEL BARRETT
University of Glasgow