Membership Q&A
Issue: Future Tech
09 August 2016 article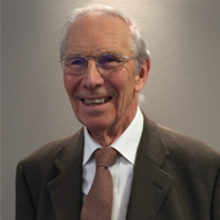 This is a regular column to introduce our members. In this issue, we're pleased to introduce Dr Martin Cole.
What is your current position?
I retired some years ago after a career at Beecham Pharmaceuticals and SmithKline Beecham. I joined George Rolinson's Department of Microbiology at Brockham Park in 1958, later becoming head of the Department of Biochemistry and a Project Manager. When I retired I was Director of Research Programmes at Brockham Park.
What was your area of specialisation?
Microbial biochemistry, particularly searching for potentially useful substances. Initially I worked on 6-aminopenicillanic acid (6-APA), the nucleus of all penicillins, which is made in small amounts by Penicillium chrysogenum and from which a great variety of semi-synthetic penicillins could be made. One of my early achievements was to find an enzyme, made by a strain of Escherichia coli, which would readily deacylate benzylpenicillin to give 6-APA and hence allow bulk production of the new penicillins such as amoxicillin.
You worked in the field of antibiotic resistance, what did this involve?
The very useful broad-spectrum penicillin, amoxicillin, is destroyed by beta-lactamases made by many clinically important bacteria. A big effort was mounted to see if we could find an inhibitor of these enzymes. My colleagues and I found such an agent, a novel substance made by the soil microbe Streptomyces clavuligerus, which we named clavulanic acid. Developing its use for treating amoxicillin-resistant infections was a bit of an uphill struggle as there was no precedent for such an approach. A product containing amoxicillin with potassium clavulanate was eventually launched under the trade name Augmentin (co-amoxiclav) and is widely used around the world.
What was the worst moment of your career?
Having my briefcase stolen from my car while I was in a local pub with colleagues after work. It contained a draft of a multi-author paper and my draft for the patent application on clavulanic acid. With the help of our local police chief and two young boys from the nearby village, all the pages were retrieved, sodden, from roadside ditches, having been chucked away by the criminals when they found no money or drugs. I was very relieved!
What happened when you retired?
Initially, I did consultancy work for my previous employer. I also helped the United Nations Industrial Development Organisation in China and the Royal Botanic Gardens at Kew. As more time became available I joined local organisations, becoming Chairman of Dorking Museum, Convenor of the Local History Group and President of the Rotary Club in Dorking. I was also Vice-Chairman of NESCOT, a college of further and higher education in Epsom. I still enjoy reading Microbiology Today, The Biologist, The Biochemist and Chemistry & Industry.
What might your colleagues not know about you?
That I have flown over the City of London and up the Thames in the helium-filled Skyship 500, taking photographs over my old college – Imperial College. Also, I successfully took a course on driving the famous steam locomotive Flying Scotsman but did not exceed 25 mph.
What do you do to relax?
Together with my wife, Maureen, son and daughter we restored our 2.5 acre Victorian garden and now enjoy looking after it. With the help of our local museum and history group, and also the Surrey Gardens Trust, we researched the history of where we live and have just published a book, The Capel Leyse Estate, South Holmwood, Surrey. I also enjoy visiting other peoples' gardens, supporting the Royal Botanic Gardens, Kew and going on fungal forays. Oh, I nearly forgot, I collect things but there is not much space left in my study or my Victorian summer house!
If you would like to be featured in this section or know someone who may, contact Paul Easton, Head of Membership Services, at [email protected]