Schoolzone: Science, art and writing in schools
Issue: Imaging
13 February 2018 article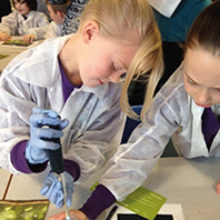 Our members regularly engage with local schools or school-age groups, introducing them to the world of microbiology through many creative channels. The following is an example of a large consortium of mainly Microbiology Society members engaging children with the ideas of antibiotic resistance and hands-on science through the SAW Trust.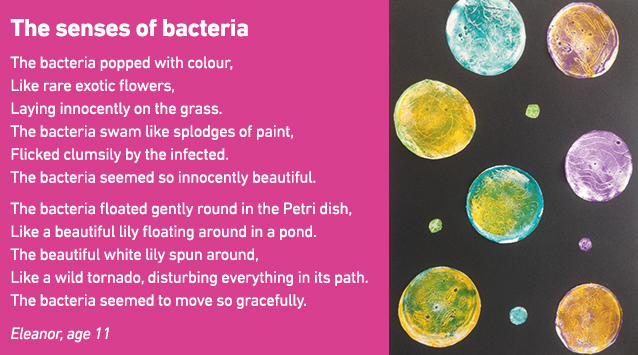 Scientists from across Norwich Research Park have been working with the Science Art and Writing (SAW) Trust to deliver projects in schools on the theme of antimicrobial resistance (AMR). Children aged between 8 and 12 years old explored fundamental microbiology, and learned about the development of antibiotics and the current problems associated with increasing antimicrobial resistance. The scientists introduced the children to their research topics, which included looking in new places for antibiotic-producing bacteria; genome mining to unlock silenced antibiotic pathway gene clusters; and the development of new diagnostic tests for use in the surgery. The children also did some experimental work. In SAW projects, scientists team up with professional artists and writers who then use the science theme as a starting point to deliver poetry and visual arts sessions, giving the children opportunities to respond to the science through creativity.
The outputs of the projects have been brought together, along with examples of citizen science projects like the Microbiology Society's Antibiotics Unearthed project and Dr Adam Roberts' Swab & Send, and published in a new book entitled SAW antibiotics.
"I thoroughly enjoyed this stunning book. Educating children in such an interactive way is so important. I am passionate about addressing AMR, as are the researchers, and I hope this can help inspire future generations to engage in the efforts to save modern medicine."
Professor Dame Sally Davies, Chief Medical Officer
To purchase a copy of the book, find out more about working with the SAW Trust or to make a donation, please visit www.sawtrust.org.
Jenni Rant
John Innes Centre, Department of Metabolic Biology, Norwich
If you are a member and are currently doing work with schools, we want to hear from you! We are building up our resources on school–based activities and want to acknowledge our members that are doing this important work. Please email [email protected] about your activities.
---
Images: Both SAW Trust.