Careers Focus: teaching microbiology in higher education
Issue: Life on a Changing Planet
11 May 2021 article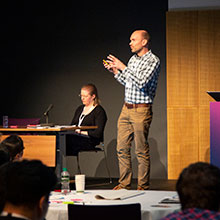 During the 2018 Annual Conference, we hosted the Society's first Teaching Microbiology in Higher Education Symposium, which aimed to bring together those involved in teaching to share practices, exchange new ideas and discuss issues affecting the teaching landscape. Since then, we have aimed to create an environment where members can support each other in this area.
Recently, platforms like this have become even more important to share an evolving way of teaching during a time of reduced face-to-face interaction with both students and colleagues. As we reflect on some of those changes, here are some of the lessons learnt and things to consider.
Maintaining student engagement
Engagement is essential in allowing students to digest and apply taught studies; however, it can be difficult to interpret just how engaged students are when teaching online. Creating stimulus during lectures, for example via chat functions and using polls, can help in reading the audience and understanding if you're engaging your students with key take-home information.
The role students play in each other's learning is also important to bear in mind. With the absence of reassurance from their peers, students may feel less supported and confident in their approach or ability. Peer-feedback can be incorporated in many ways, such as allowing time for students to present related research to each other. This can allow them to analyse their own research from a different perspective and develop their reflective practices. Projects where students are encouraged to work in small groups can also create a sense of social belonging and valued contribution.
Digital teaching
As we become more reliant on technology, you may wish to consider ways in which it can be incorporated to ease the learning of students. Convenience often enables students to focus on the task at hand or even go beyond the bare minimum. Everyday practices such as note-taking can be made convenient and efficient with Sketchnotes, for example – downloadable images that can be used to capture key concepts that may appeal to visual learners. Also, pre-picking resources for students and presenting them via QR codes rather than links may increase the ease with which students can access wider learning.
Facilitating learning without the burnout
With the extra workload that comes with remote teaching and the added pressures of working during lockdown, managing the demands of teaching and getting the most out of students whilst minimising burnout can be difficult.
When converting lectures and tutorials into online content, it is important to remind yourself that, in most cases, these types of content cannot replicate direct physical experience. It might also be worth reviewing learning outcomes and identifying which are essential and which are duplicated elsewhere, to minimise the unnecessary burdens. Managing expectations from the perspective of staff and student will enable you to feel a greater sense of control.
As we adapt to a new way of teaching, there are many learning opportunities that we can use in practice. The Microbiology Educators Network, a bi-monthly webinar series focused on allowing members to share current teaching experiences, was launched last year in response to supporting members teaching microbiology in higher education. You can watch past webinars to hear how others have navigated through challenges. You can also explore a range of teaching resources, including presentations from the annual Teaching Microbiology in Higher Education Symposium, on our website (microbiologysociety.org/TeachingResources).