Coccus Pocus 2020: a microbiology-inspired scary story competition about biofilms and antimicrobial resistance
Issue: Life on a Changing Planet
11 May 2021 article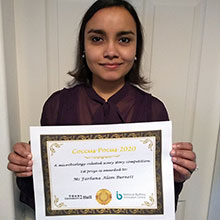 In October 2020, the Department of Biomedical and Forensic Sciences at the University of Hull launched an exciting scary story competition for Halloween, Coccus Pocus 2020!
The competition was supported by the National Biofilms Innovation Centre as part of their #BiofilmAware campaign, which is all about helping people to understand what biofilms are and why biofilms are so important.
Dr Morgan Feeney from the University of Strathclyde, Dr Leena Kerr from Heriot-Watt University, Dr Nadia Andreani from the University of Lincoln and Mr Giridhar Chandrasekharan from the University of Warwick kindly offered to act as Coccus Pocus Ambassadors, communicating the event at their institutions.
The contestants were encouraged to write a short horror sci-fi story between 500 and 2,000 words, including antimicrobial resistance and/or microbial biofilms. The story evaluation committee ranked the stories according to the intrigue of their plot, use of language, character description and scientific soundness.
The first prize (a £100 Amazon voucher) was awarded to Ms Farhana Alam Burnett, a microbiology PhD student from the University of Birmingham. Her thrilling story, Persisters, is about a domestic fungal biofilm that does much more than smelling bad!
Ms Amisha Sathi, an undergraduate from the University of Warwick received the second prize (a £30 voucher) for her story Abnormal, where the protagonist fights a horde of slimy hostile creatures in a post-apocalyptic horror setting.
Finally, Ms Bethany Pearce, again an undergraduate student from the University of Warwick, was given the third prize (a £20 voucher) for her story Day 0, which tells us the tale of a patient suffering from an antibiotic-resistant superbug infection that spreads rapidly all over the hospital.
Coccus Pocus will run again in October 2021. Can you think of any biofilm- or AMR-related scary stories? Would you like to be one of our Coccus Pocus Ambassadors? And… which university or school will claim our next trophy? Read more about the competition and download the winning stories on our website (microb.io/coccuspocus2020).
Georgios Efthimiou
University of Hull, UK
---
Image: Ms Farhana Alam Burnett, University of Birmingham. Winner of the first prize..