Focused Meetings 2021
Issue: Life on a Changing Planet
11 May 2021 article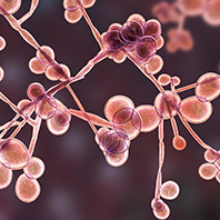 The Society organises a varied programme of Focused Meetings each year that brings together those with shared scientific interests across the full range of microbiology topics. Following the cancellation of our physical events programme due to COVID-19, the Focused Meetings for this year will all be delivered as digital events. These are designed to promote the latest scientific research on key areas of microbiology.
Candida and Candidiasis 2021
21–27 March 2021 Digital event – #Candida2021
This seven-day meeting was hosted by the Society and delivered as an online event. It brought together the Candida research community to present the latest advances and ideas to empower major ongoing efforts to understand, treat and prevent Candida infections. It also presented the latest advances and ideas about the molecular mechanisms that underpin Candida pathobiology, the immunological responses of the host to the fungus and antifungal drug resistance.
Anaerobe 2021: The Microbiota and Beyond
15–16 July 2021 Digital event – #Anaerobe2021
The Microbiology Society is pleased to present Anaerobe 2021 in association with the Society for Anaerobic Microbiology. Anaerobic bacteria are predominant members of the normal human microbiota and well recognised as lethal pathogens. Aspects of their virulence, antimicrobial resistance and interactions with the human host will be highlighted during this Focused Meeting.
Avian Infectious Diseases 2021
15–17 September 2021 Digital event – #Avian21
Infectious diseases continue to threaten the sustainability, productivity and growth of the poultry industry worldwide and some present a risk to public health. Many are also present in wild bird populations, with the potential to spill over into domestic birds. This online meeting capitalises on the success of the previous Microbiology Society Focused Meeting entitled 'Pathogenesis and Molecular Biology of Avian Viruses' and expands the remit to include bacteria and parasites.
British Yeast Group 2021: The future of yeast research
7–9 December 2021 Digital event – #BYG21
This year's British Yeast Group Meeting will focus on the future of yeast research. The programme will feature assorted talks from invited speakers and will provide plenty of opportunities for early career researchers to present their work through e-poster presentations and offered oral presentations. The meeting will conclude with a stimulating discussion on the future of yeast research that will be chaired by Nobel Laureate, Sir Paul Nurse.
You can find information about abstract submissions, registration and other details for any of these events at microbiologysociety.org/events.
---
Scientific Seminar Series 2021
The Scientific Seminar Series is designed to reach a priority microbiology community to support it in disseminating knowledge across its professional networks. The events are designed as a regularly repeated series of short (typically 1–2 hour) online meetings.
SARS-CoV-2 and COVID-19 Seminars
Monthly
The Society is seeking to gain a greater understanding of ongoing and planned SARS-CoV-2/COVID-19 research in order to build national and international cooperation between virologists and the wider scientific community. These meetings are designed as a catalyst for information exchange and to extend the research network.
JMM Speaker Seminars
Monthly
A monthly seminar series from the Journal of Medical Microbiology (JMM) that is designed to disseminate high-quality and timely research from the journal's key authors. JMM is the go-to interdisciplinary journal for medical, dental and veterinary microbiology. It welcomes everything from laboratory research to clinical trials, including bacteriology, virology, mycology and parasitology.
---
Image: Dr Microbe/iStock.