From the President
Issue: Life on a Changing Planet
11 May 2021 article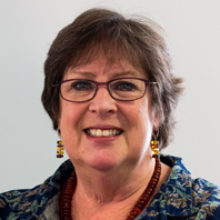 The Microbiology Society has now held its first online Annual Conference, the second in a series of online meetings that will take place in 2021, following on from Candida and Candidiasis at the end of March. In light of last year's difficult but inevitable decision to cancel Annual Conference in Edinburgh, it was even more exhilarating to virtually 'meet' so many of you at Annual Conference Online 2021 and reassuring that you are all still out there!
The week provided a chance to delve into some of the outstanding and diverse research that has been carried out in the last year, in spite of the many obstacles faced, and demonstrated the resilience and determination of the microbiology community. To run our programme of events and keep our community engaged and in touch has required our office staff to be resourceful, imaginative and agile, working long hours, remotely, to test different platforms and then make them work. As a society, we have learned a great deal about new ways of running events and hope these will carry forward to even better, more inclusive meetings in the future. I am personally both impressed and grateful for their professionalism and dedication to keeping the Society not just running, but running well. I look forward to seeing many of you at our other events, which must of course continue online due to the unpredictable nature of the pandemic. This will include the Microbiology Society Roadshow events for those based in Norwich this month, and elsewhere in the UK later this year. Our Focused Meeting programme will also continue online this year, with themes covering avian diseases, anaerobic microbes and yeasts – find out more on the events page.
Those of you that attended Annual Conference, may already have attended the webinar in which we outlined plans for our project to transform Access Microbiology into an open peer review platform. This platform will allow authors to post their manuscripts as preprints online immediately and receive AI review reports on their manuscripts, opening up the peer-review process. Read more about the new platform in our blog series (microb.io/blog).
Another highlight of this year's Conference, and an unexpected benefit of having missed out last year, is that we had a grand total of nine Prize Lectures awarded to scientists in 2020 and 2021 who have each made significant contributions to microbiology. We are currently welcoming nominations for the Microbiology Outreach Prize, the 2022 Prize Lectures and the 2023 Prize Medal – submit yours on our website (microbiologysociety.org/PrizeLectures). Please remember, this is your society and if you think someone deserves recognition, don't leave it to someone else to nominate.
We have also just launched our Unlocking Potential Grant Fund, a fundraising call to allow us to open an important new grant stream to unlock and harness the potential of members. We will use donations to make funds available, via our 'Unlocking Potential' grant, to those who may require an extra level of support to help them progress or deal with a situation that may hold them back from achieving what they could. It is only with your help that we will be able to provide this level of bespoke support. In doing so, we will help not only to sustain microbiology but develop future leaders, who might, in turn, one day provide solutions to global challenges.
Times have been tough over the last year, but there is hope in science; in the vaccines, the testing and the research that have all been fundamental in increasing our understanding of SARS-CoV-2 and to start tackling the disease. I am proud to be part of a community in which so many have contributed to all parts of the solution to this global crisis. Climate change, another global crisis with ramifications for life across the planet, is the focus of this issue, which demonstrates how key microbiology is and will continue to be in helping to help steer the way forward.
Judith Armitage
President