Member Q&A: Stephen Polyak
Issue: Life on a Changing Planet
11 May 2021 article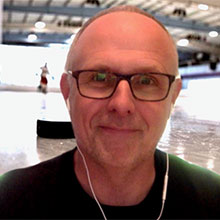 This is a regular column to introduce our members. In this issue, we're pleased to introduce Stephen Polyak.
Where are you currently based?
Virology Division, Department of Laboratory Medicine and Pathology, University of Washington, Seattle, WA, USA.
What is your area of specialism?
Virology.
And more specifically?
Virus–host interactions, virus-induced inflammation, approved drug repurposing as broad-spectrum antiviral agents. I have worked on hepatitis C virus, HIV, filoviruses (Ebola), arenaviruses (Lassa) and now, SARS-CoV-2.
Tell us about your education to date.
1987, BSc; 1993, PhD: both from McMaster University, Hamilton, ON, Canada.
Where did your interest in microbiology come from?
Grade 10 class on cell biology, followed by 3rd-year molecular biology and 4th-year virology courses during my undergraduate studies at McMaster.
What are the professional challenges that present themselves and how do you try to overcome them?
As an academic researcher, funding is the main challenge. One way to stay competitive and funded is to be like the RNA viruses I study: adapt to work in new environments, i.e. work on new viruses. Another way is to build international collaborations to open up avenues for funding from different agencies. Persistence is also key, along with the intuition (and luck) to know when to switch tracks.
What is the best part about 'doing science'?
Building collaborations, creating and implementing ideas that never existed before, working with smart and good people to tackle big questions, and developing sustaining relationships with valued, trusted and respected colleagues and friends.
Who is your role model?
I have several. Athletically, Wayne Gretzky, a superstar hockey player from my hometown of Brantford, ON, Canada. Gifted player, who is respected on and off the ice, and most importantly, a team player. Scientifically, my current collaborators and friends, Drs Judith White and Mary Paine. They are rigorous and precise scientists, effective and timely communicators, and wonderful people to work with and
know. Musically, Sir Paul McCartney, whose music has been a soundtrack for key parts of my life.
What do you do to relax?
Sports: ice hockey, cycling, hiking, kayaking, Orange Theory (when they reopen!). Arts: play the guitar, write and sing songs, play gigs with Stark Polarris, a band created with University of Leeds Virologist, Professor Mark Harris. Social: talk to my daughters, my wife Suzanne, visit microbreweries and wineries with friends, family and lab members. Pet my cat Eudora.
What one luxury item would you take to a desert island?
Abbey Road. Continuous, fresh, cold sparkling water.
Tell us one thing that your work colleagues won't know about you!
I was once interviewed on TV by hockey legend Bobby Orr.
If you weren't a scientist, what would you be?
A touring musician.
If you would like to be featured in this section or know someone who may, please get in touch with our Membership team, at [email protected].
---
Image: Stephen Polyak.