Spotlight on Grants: Harry Smith Vacation Studentships
Issue: Life on a Changing Planet
11 May 2021 article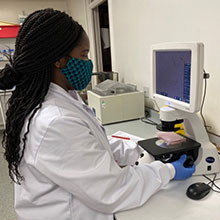 Harry Smith Vacation Studentships facilitate short research projects for second- or penultimate-year undergraduates during their summer vacation. In turn, the scheme supports budding research scientists and provides opportunities for early career researchers to gain supervision experience.
Last summer, several funded projects were safely adapted to accommodate the ongoing coronavirus pandemic, with some projects incorporating remote working, considering new health and safety regulations or contributing towards SARS-CoV-2- and COVID-19-related research. Here, we catch up with some awardees to find out more about their experiences.
Supervisor: Dr Natalie Barratt Student: Miss Mariklairi Kiourkou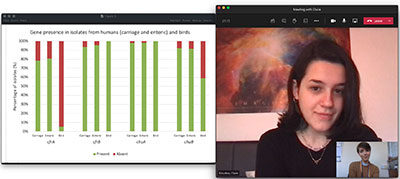 Last summer, Natalie and Mariklairi transformed their initial lab-based proposal into a remote bioinformatics project with the aim of using the Bacterial Isolate Genome Sequence Database (BIGSdb) to screen samples of Campylobacter jejuni and Campylobacter coli for the prevalence of various iron-uptake systems. By doing so, they were able to create a genomic scheme to quickly identify iron-uptake systems in pathogenic campylobacters.
Mariklairi said, "This project has been a perfect opportunity for me because I learned the whole process of finding a new project and organising my thoughts on how I must approach a biological matter."
Natalie said, "This has been a great experience in terms of managing a small research project independently. This is the first time I have overseen a bioinformatics project and worked on a project remotely, so that was helpful as this style of teaching and supervising is bound to be more commonly used this academic year in particular."
Supervisor: Professor Fiona Henriquez Student: Miss Charlotte Tembo
Fiona and Charlotte investigated the efficacy of a new form of face-covering fabric that had the potential to reduce the risk of community transmission of pathogens, including the coronavirus. This was done using a surrogate model of SARS-CoV-2, the murine hepatitis virus (MVH), which was nebulised via a mechanical breathing apparatus before the presence of viral particles were assessed via real-time PCR and median tissue culture infectious dose (TCID50).
Charlotte said, "the highlight of my internship was working alongside professionals in the microbiology field on a project that is COVID-19 related. I really enjoyed being taught and trained by the technicians on how to conduct experiments on my own, as this really increased my confidence working in the laboratory environment whilst developing my skills in cell culture, infectivity assays, microscopy and data interpretation."
Fiona said, "Non-COVID-19-related research was paused during lockdown. At the same time, we got the great news that Charlotte's application to the Harry Smith Vacation Studentship was successful, but alas we could not engage in the original project, as cells were frozen and reagents were prioritised for COVID-19-related research. The opportunity for Charlotte to contribute to our understanding of coronavirus in vitro was evident, and we submitted a request to change the aims of the original project. The process was straightforward and complemented the process that would allow student training to occur under strict health and safety regulations and management during the pandemic. It was wonderful to be able to host Charlotte in the laboratory and to witness her integration into the research team. Also, the research team enjoyed being involved in her training and her results helped move the other projects forward."
Applications for the Harry Smith Vacation Studentship open in December each year. To find out more about the wide range of grants to support Microbiology Society members, visit the grants area of our website (microbiologysociety.org/grants).
---
Image: Fawziye Tarhini. Charlotte on the last day of her placement, assessing microscopically the health of murine cells she inoculated with MHV in a TCID50 assay to determine whether they had been virally infected. .