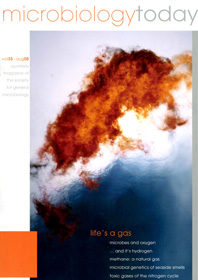 To view and print this document, you will need to download Adobe Acrobat Reader.
Life's A Gas
01 August 2008 publication
The lead articles of the August 2008 issue of Microbiology Today are on microbes and oxygen; life's a gas... and it's hydrogen; methane: a natural gas; microbial genetics of seaside smells; and toxic gases of the nitrogen cycle.
Microshorts (p. 114)
Lucy Goodchild takes a look at some stories that have hit the headlines recently.
Microbes and oxygen (p. 116)
Martha Clokie explores the range of micro-organisms and even, surprisingly, viruses are involved in oxygen production on planet Earth.
Life's a gas... and it's hydrogen (p. 120)
Mark Redwood and Lynne Macaskie discuss how some microbes gain energy by releasing hydrogen into the environment, a process which has many exciting applications.
Methane: a natural gas (p. 124)
Methane may be a greenhouse gas, but James Chong reveals how conversely it also has great potential as a source of green energy.
On the microbial genetics of seaside smells (p. 128)
DMS, responsible for the familiar aroma of the shore, is produced by complex microbial processes, as explained by Andy Johnston.
NO laughing matter: the toxic gases of the nitrogen cycle (p. 132)
Nitric oxide is an important part of the nitrogen cycle, but David Richardson, Andrew Thomson and Nicholas Watmough discover in some circumstances it can be a greenhouse gas.
Schoolzone (p. 138)
In the wake of natural disasters, the media often highlight the risk of epidemics contributed to the dead bodies; Dariel Burdass questions whether people are more at risk from the living or the dead.
Obituary - Professor Norbert Pfennig (p. 141)
Friedrich Widdel and Bernhard Schink detail the life and achivements of Norbert Pfennig, who passed away in February.
Gradline (p. 142)
Jane Westwell advises on one of the main troubles of being a postdoc - getting funding. The Society also speaks to Gail Ferguson, a senior lecturer at University of Aberdeen, in a Q&A format.
Going public (p. 150)
In this issue, Lucy Goodchild covers some of the latest ways by which microbiologists can keep in touch with each other and their subject. Faye Stokes describes her experience at the Science and the Assembly event in Cardiff this May.
Comment: Bad reporting in the media is hard to swallow (p. 156)
John Heritage feels that sometimes it can be a good thing that today's newspaper is tomorrow's chip wrappings.