Annual Conference 2019 and 2020
Issue: Metabolism, Health and Disease
07 May 2019 article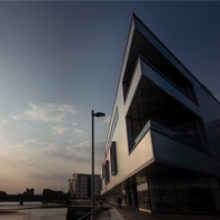 Annual Conference 2019
#Microbio19
8–11 April, ICC Belfast, UK
In April the Microbiology Society welcomed over 1,300 delegates to its flagship Annual Conference, which took place in Northern Ireland for the first time in the Society's history. The line-up of expert speakers from across the globe presented over four days on a wide range of topics. The event included:
• 29 scientific sessions
• Talks from 130+ invited speakers
• Over 290 offered talks
• Over 600 posters
• Five sessions dedicated to professional development:
CV workshop
Managing a research laboratory
Peer review
Research and publishing ethics
Resilience in careers
• Two Hot Topics:
Creating a path – how single cells can solve mazes, see round corners, and find out where they ought to go by Professor Robert Insall, Cancer Research Institute, UK.
Paralytic disease caused by enteroviruses: the role of non-polio serotypes by Javier Martin, National Institute for Biological Standards and Control (NIBSC), UK.
• Four Poster Prizes: Microbiology Society Journals' 'Most Promising Science' Prize, Early Career Microbiologists' Forum Poster Prize, Peoples' Choice Poster Prize , and the Howard Dalton Young Microbiologist of the Year Prize.
If you presented work at our Annual Conference 2019, why not submit your article to one of our journals to continue to support the work of the Microbiology Society and the microbiological community? Visit the Microbiology Society journals platform to find out more.
Watch some of the videos from year's Annual Conference on the Microbiology Society YouTube Channel.
Annual Conference 2020
#Microbio20
30 March–3 April, EICC Edinburgh, UK

Preparation is now well underway for our Annual Conference 2020 at the Edinburgh International Conference Centre (EICC). The event will take place for an extended five days as part of our 75th anniversary celebrations.
On the first day of Annual Conference 2020, the Microbiology Society will be hosting a special day-long series of Fleming Lectures organised by an appointed committee of previous Fleming Prize winners, chaired by Nobel Prize winner Sir Paul Nurse. The day is designed to provide value to everyone in the microbiology community, including early career scientists. You will be able to attend this day for free when registering for Annual Conference 2020.
Abstracts will open in August 2019 for the Annual Conference sessions running from the Tuesday until the Friday, and the submissions deadline will be Monday 9 December 2019.
Destination Edinburgh
Edinburgh is a diverse and vibrant city, steeped in history. The backdrop of Arthur's Seat, the Pentland Hills and Edinburgh's waterfront make the city an exciting event destination. If you extend your stay after Conference, there are plenty of attractions to visit, such as Edinburgh Castle, the National Museum of Scotland, the Scottish Parliament and the Royal Yacht Britannia. Visit edinburgh.org for further information.
Accommodation
Edinburgh is a popular destination and we therefore highly recommend you secure your accommodation as soon as possible to ensure you have a place to stay. To support you with this, our booking agent Reservation Highway (reservation-highway.co.uk/micro20) has secured a range of accommodation options to suit all budgets throughout Edinburgh, at discounted rates.
Programme
As always, Annual Conference is designed to cover the breadth of microbiology research and its comprehensive scientific programme has over 30 sessions taking place in a range of formats:
Fleming talks
Genetic control of mosquitoes
Orchestrating gene regulation across the genome and across the cell
Palaeomicrobiology: what ancient DNA can tell us about pathogens from the past
Predatory Bdellovibrio bacteria – 58 years of understanding them as allies against AMR infections
The expanding virosphere
Visualising bacterial nanomachines in situ by electron cryotomography
Main Symposia
AMR
Back to the future
Bacteroidetes
Bioproduction and biomaterials
Dynamic cell
Epigenetics
Exploring the eukaryotic tree of life
Genes on the move
Marine microbiology
Novel eukaryotic drug targets
Outer layers of microbiology
Phage biology
Public health microbiology
Viruses that get under your skin – virus infections of skin and associated epithelia
Toxins and antitoxins
Veterinary microbiology
Virus modulation of cell stress
Forums
Environmental and applied microbiology forum
Genetics and genomics forum
Microbial infection forum
Microbial physiology, metabolism and molecular forum
Virology Workshops
Cell stress and viruses
Clinical virology
DNA viruses
Negative strand viruses
Positive-strand and double-strand RNA viruses
Retroviruses
Professional Development Sessions
Bioinformatics
Entrepreneurship
Fellowship
Teaching Microbiology in Higher Education Symposium
Unconscious bias
Sign up to our newsletter and follow the Society on social media to receive regular updates about events and Society news.
---
Images (Annual Conference 2019): I. Atherton.
Image of Edinbugh (Annual Conference 2020). rabbit75_ist/Thinkstock.