Membership Q&A
Issue: Metabolism, Health and Disease
07 May 2019 article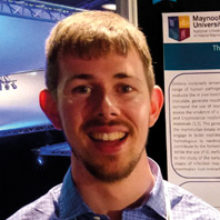 This is a regular column to introduce our members. In this issue, we're pleased to introduce Gerard Sheehan.
Where are you currently based?
I am currently based in the Medical Mycology laboratory in the Department of Biology at Maynooth University in Ireland.
What is your area of specialism?
Host–fungal pathogen interactions and fungal virulence.
And more specifically?
I am interested in the interplay between fungal pathogens such as Aspergillus fumigatus and Candida albicans and how they (1) infect their host and (2) respond to the host immune response. I mostly focus on the humoral response and I utilise insect larvae such as Galleria mellonella to model infection processes in vivo.
Tell us about your education to date
I studied for my BSc in Biomedical Science at Maynooth University and this provided me with an excellent background in microbiology and immunology. I am now in the final year of my PhD and I have loved the whole experience, from designing, performing and analysing experiments, to presenting my work at national and international conferences. I have previously worked on projects ranging from studying the factors affecting biofilm formation in beer lines, to blocking antibiotic resistance in multi-drug resistant (MDR) bacteria.
Where did your interest in microbiology come from?
During my undergraduate degree, our course co-ordinator at the time (now PhD supervisor; Professor Kevin Kavanagh) lectured our class in microbiology. I approached him mid-way through my second year asking about the possibility of getting some lab experience during the summer months. He offered me the opportunity to work in his laboratory and I worked with postgrads on a variety of microbiology projects. I greatly valued this experience and it increased my desire to puruse a career in microbiology. Following on from this I applied for and received a Harry Smith Vacation Studentship from the Microbiology Society to work on an independent project to characterise diseases of honey bees in Ireland. With my time in the laboratory came confidence in my ability and also a love for all things microbiological!
What are the professional challenges that present themselves, and how do you try to overcome them?
Working in academia certainly has its advantages, but it's the drawbacks which are the problem. Job security, difficulty of securing funding, lack of tenured positions, the academia/industry divide. Maybe these will improve in years to come…but the glass is half full and I love working in a laboratory; on a project which needs answers; the idea of being your own 'boss' and teaching in tertiary-level education. Making a difference not only in your field of expertise, but also to society, is really appealing to me
What is the best part about 'doing science'?
I think it's the variety. Nothing is ever the same and everything is fresh. I love working on a project and getting really involved. However, it's a great feeling to finish it and move on to another exciting project.
Who is your role model?
I have been inspired by my lecturers at university and by their dedication to teaching and research. In particular, I have been highly impressed by their ability to inspire undergraduate students and to foster their careers.
What do you do to relax?
Outdoorsy stuff: I like hiking and also play basketball at a high level in Ireland. These things don't sound very relaxing but they are good to clear your head and get away from the lab. To really chill out, I like a good TV series and a cuppa tea.
What one record and luxury item would you take to a desert island?
I would either bring a Coldplay greatest hits album, or preferably I would be cheeky and bring my Spotify account. For my luxury item I would have to bring a jar of Nutella!
Tell us one thing that your work colleagues won't know about you.
I am lucky that we have a very close-knit community of postgrads in Maynooth and I am extremely close with everyone in the lab, so they know me too well. One thing they won't know about me is I was, at one stage in my early life, an award-winning artist.
If you weren't a scientist, what would you be?
This is a tough question, as all my college choices involved biology (e.g. biology and PE teaching) but if I had to stray from science it would probably be something practical like an electrician.
If you would like to be featured in this section or know someone who may, contact Paul Easton, Head of Membership Services, at [email protected].