Spotlight on Grants: Colonising the causes of gastric cancer
Issue: Metabolism, Health and Disease
07 May 2019 article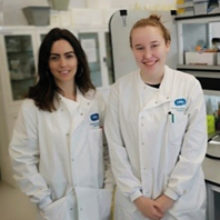 Harry Smith Vacation Studentships facilitate short research projects for second year undergraduates during their summer vacation. By funding such opportunities, the Microbiology Society invests in the professional development of budding research scientists and provides opportunities for early career researchers to gain supervision experience.
Last summer, BSc Biomedical Sciences student Helen Jordan was awarded a studentship by the Society, where she worked under the supervision of Dr Amanda Rossiter at the Institute of Microbiology and Infection, University of Birmingham, UK. Helen investigated interactions between Helicobacter pylori and the human gastric microbiome, and how changes in frequency of such microbes can be correlated with the development of gastric cancer.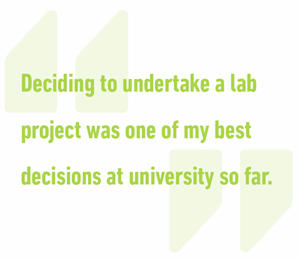 During her studentship, Helen mimicked the conditions of the gastric microbiome environment in vitro, so that she could observe the growth of H. pylori, before co-culturing with samples of Actinomyces oris and Campylobacter jejuni. From this co-culture, Helen identified that A. oris appeared to be responsible for growth inhibition of H. pylori in the gastric microbiome, whereas there was no effect on the growth of a closely related species, Campylobacter jejuni. The data gathered by Helen will contribute to a manuscript that is currently in preparation.
Helen said, "In terms of my academic career, it has cemented for me a drive and desire to pursue a PhD. The project gave me my first experience of research and all that comes with working in a lab. I feel very prepared for my third year dissertation and my PhD applications with this project under my belt."
Since Helen left the lab, Dr Rossiter and her research group have been exploring in depth the mechanisms by which cancerous gastric microbes influence the growth of H. pylori, and how such behaviour modulates epithelial cell responses in an ex vivo organoid model.
Dr Rossiter described Helen as "a great addition to the lab over the summer months. She was able to master a range of culture techniques, independently plan experiments and interpret her results. Her work, and the work of others in my lab, will further our understanding of complex polymicrobial interactions and their role in gastric carcinogenesis."
Helen said: "The highlight of the project for me was seeing my name and data I had produced on a poster Amanda presented at a H. pylori conference in Helsingor, Denmark. The skills I have learnt this summer are proving invaluable. I would like to thank the Microbiology Society once again for their support."
Applications for the Harry Smith Vacation Studentship open in December each year.
To find out more about the wide range of grants to support Microbiology Society members, visit the grants area of our website.
Kirti Mistry
Grants and Professional Development Officer
[email protected]
---
Image: Helen with Dr Rossiter in the lab. Helen Jordan.