DNA fingerprinting algae
Issue: Microbes and Food
07 August 2018 article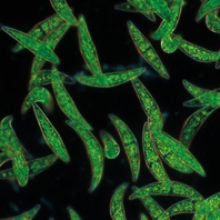 The Culture Collection of Algae and Protozoa (CCAP) is the largest collection of marine and freshwater algae, protists and seaweed in Europe. Housing over 3,000 living strains, it is the most diverse collection of its kind in the world and is used as a source of genetic material and natural products for medical and life sciences research, as well as for industry.
As an International Depository Authority (IDA), the facility accepts and stores some strains under cryopreservation for the Purposes of Patent Procedures and Regulations, as well as preparing cultures to order for research, education and industry (cyanobacterial, protistan and macro-algal). To commercialise a strain or start a patent application, it is necessary to know the identity of the strain. To this end, CCAP now carries out molecular identification of algae and cyanobacteria through sequencing DNA barcode regions (typically 18S rDNA for eukaryotes and 16S rDNA for prokaryotes). By pairing sequencing data with algal taxonomy expertise, CCAP aims to determine the identity of strains to genus and, if possible, species level. The scientists at CCAP also provide high-quality genomic DNA from pure strains in the collection.
Humble beginnings
For a cutting-edge facility, now pushing the boundaries of microbial genetics, CCAP had remarkably humble beginnings. It started out as a collection of vials, smuggled into the UK by Professor Ernst Georg Pringsheim, who fled from Nazi Germany in 1938. The war refugee professor smuggled his algal collection to England in his luggage, leaving behind all his other belongings.
On arrival in the UK, Professor Pringsheim brought the vials to Cambridge University, where he further developed his research and his collection of microalgae and protozoa. Much later, in 1986, the marine cultures were relocated to the Scottish Association for Marine Science (SAMS) near Oban on the west coast of Scotland; home of CCAP. The freshwater samples were also relocated here in 2004, and together these cultures formed the basis of the modern CCAP collection. CCAP is now funded by the Natural Environment Research Council (NERC) and is one of eight microbial national biological resource centres (BRC's) within the UK.
Professor Pringsheim retired at the ripe old age of 86, having isolated 438 strains – many of which are still available at CCAP today!
Supplying the scientific community
CCAP provides services and support to the scientific community, as well as to businesses, supplying strains for ecotoxicology and biocide testing and for aquaculture feeds. The national facility also delivers training courses for scientists and students, teaching them to isolate and culture algae from their own water samples. The long history of the centre means that the scientists at CCAP have accumulated a wealth of resources about the strains they maintain, including information on their provenance, properties and images, as well as references from the scientific literature about where each of the strains has been used. The facility even supports the next generation of microbiologists by producing an Algal Culture Kit for schools.
For more information on molecular taxonomy or cultures from CCAP, visit www.ccap.ac.uk.
Acknowledgement
SAMS is supported by the NERC, which provides £430,000 of funding for the CCAP facility each year.
Keri Wallace
Scottish Association for Marine Science (SAMS), Oban, Argyll.
[email protected]
---
Image: Freshwater Desmid. Scottish Association for Marine Science (SAMS).