Editorial
Issue: Microbes and Food
07 August 2018 article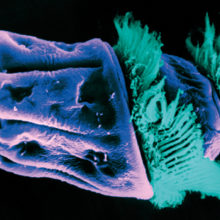 Welcome to the August edition of Microbiology Today, hopefully one you are able to enjoy in the summer sun, possibly alongside a cold drink or an ice cream. If you are enjoying this issue with a snack, it is worth stopping for a moment to consider how microbes might be impacting on your experience of that food.
Microbes influence our food in an extensive range of ways, dictating whether or not you experience a delicious flavour or will be sick as a result of what you eat. They can be utilised to produce protein and can impact on the health of livestock that are an essential part of the food chain. In this edition we look at all the wonderful and not so wonderful ways in which microbes affect our food.
To start us off on our journey looking into microbes and food, Christine Dodd and Dewi Yunita explain how microbes can influence the complexity and variety of flavours and textures in the foods we eat. Covering a wide diversity of food products, they explain how microbes can direct flavour development and how using the right starter culture plays a major role in producing the desirable flavours that we come across every day.
As well as being used directly to flavour our food, microbes also impact our food choices through the role they play as an essential part of the digestive tract of herbivores. Neil McEwan describes how the relationship between host and microbe allows the host to utilise nutrients from plants that they would be unable to process alone. The microbes present in the digestive tract of ruminants reared for human consumption are of particular commercial interest, as they can impact on the energy available for the growth of those animals and can also alter greenhouse gas production.
Given that the production of the food we eat comes at a cost, both monetary and environmental, it is becoming increasingly important to look at lower-cost alternatives. Richard Harrison and Rob Johnson walk us through the production of low-carbon protein made by fungi and how it can be consumed globally as an alternative to meat. Discussing some of the reasons for the increased demand for this type of protein, they outline its origins, manufacture and the direction of research which will support an increasingly energy-efficient product in the future.
Despite the many positive roles microbes can have in food production, there are still those few microbes which can cause us distress in the form of foodborne disease. The symptoms can range from mild through to life-threatening, and some of the microbes causing these problems are considered here by Prerna Vohra. Reminding us that these microbes can impact on animal health as well as human health, Prerna explains how sequencing technology is being utilised to provide valuable information on the virulence and zoonotic potential of these microbes.
With this in mind, up next are the microbes which could have a role in helping to combat infection in livestock. Robert Atterbury turns our attention to bacteriophage and the ways in which these viruses could be used to reduce infection and antibiotic use in animals destined for the food chain, potentially creating a knock-on effect for human health.
To finish off, Gregor Reid helps us all out with his Comment piece on probiotics. Answering the questions, "what are probiotics and which one should I take?", Gregor provides us with an insight into the evidence for some of the probiotics available to the public and highlights the impact probiotics can have in clinics when used appropriately. He also describes how production of probiotics is being used to benefit human populations on a global scale.
Rowena Jenkins
Editor
[email protected]
---
Image: Colour enhanced scanning electron micrograph of Ophryoscolex spp. ciliate, from the rumen of a cow. Biophoto Associates/Science Photo Library