Journals update
Issue: Microbes and Food
07 August 2018 article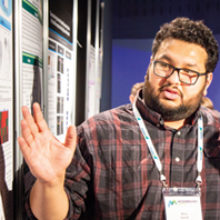 Congratulations to the 2018 Annual Conference Poster Prize winners
Microbiology Society Journals gave poster prizes at the Annual Conference 2018. Microbiology, Journal of General Virology, Journal of Medical Microbiology and Microbial Genomics awarded prizes to one poster each. We would like to thank Editors who volunteered to talk to the poster presenters and select winners. Below are the winners with the titles of their award-winning posters.
Gal Horesh 'The diversity and mobility of toxin antitoxin systems in a large dataset of Klebsiella spp.'
The following posters were highly commended:
Cadi Davies 'Investigating the biogenesis of Campylobacter jejuni outer membrane vesicle production'
Rebecca Hall 'Pretty fly for a Tsetse: flux balance analysis of the tsetse symbiont Sodalis glossinidius'
Roger Klein 'Protein interactions facilitated by CsgE are vital to amyloid fiber assembly in E. coli'
Nizar Saeedi 'Metabolic adaptation in Escherichia coli isolates during transition from UTI to bloodstream infection'
Aaron Ming Zhi Tan 'Host niche environments play a critical role in dictating the motility phenotype of Escherichia coli'
Elizabeth Elder 'Human cytomegalovirus US28 antagonises PYHIN proteins: effects on interferon and apoptosis during latency'
The following posters were highly commended:
Valeria Lulla 'Functional characterization of human astrovirus ORFx'
Ibrahim Al-Masoud 'Comparative analysis of rabies virus glycoproteins from pathogenic and non-pathogenic strains'
Emer O'Byrne 'High degree of genetic variability in respiratory syncytial virus strains circulating in Ireland'
Yasser Tatawi 'Immunogenecity evaluation of seasonal influenza vaccine in COPD patients'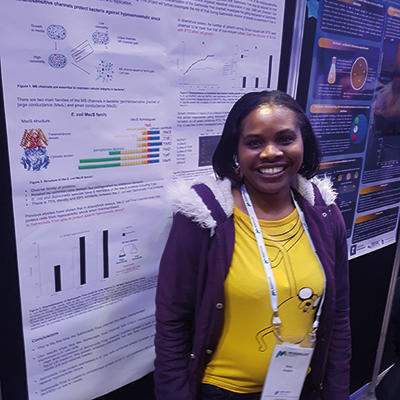 Mimi Asogwa 'Investigating the role of the bacterial mechanosensitive channel YnaI in Salmonella pathogenesis'
The following posters were highly commended:
Oliver Creese 'Fluorescent artificial cellular environments to interfere with bacterial adhesion'
Sophie Irving 'Functional characterisation of (p)ppGpp synthetases: enzymes required for bacterial stress adaptation and survival'
Imogen Johnston-Menzies 'Investigating the differential virulence of Salmonella enterica serovars in livestock animals using quantitative proteomics'
The following posters were highly commended:
Blanca Perez-Sepulveda 'Sequencing of 10,000 Salmonella genomes: a worldwide effort to understand the epidemiology, transmission and virulence of invasive non-typhoidal Salmonellosis'
Congratulations to all those who won a Microbiology Society Journal sponsored poster prize!