Membership Q&A
Issue: Microbes and Food
07 August 2018 article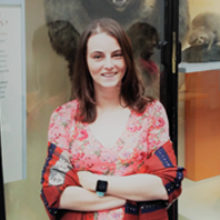 This is a regular column to introduce our members. In this issue, we're pleased to introduce Justine Rudkin.
Where are you currently based?
I am currently based in the School of Microbiology at University College Cork, in the Republic of Ireland.
What is your area of specialism?
Antimicrobial resistance and bacterial virulence.
And more specifically?
I'm interested in the interplay between the development of antimicrobial resistance and its impact on a pathogen's ability to cause disease. The implications go beyond our inability to treat infections, affecting the way that bacterial pathogens interact with their host, changing biofilm phenotypes, toxin production and even how visible a pathogen is to the immune system.
Tell us about your education to date.
I studied for my degree in Tropical Disease Biology at The University of Liverpool. I was more of a home bird in those days and was worried that I wouldn't be able to afford living away from home. Luckily, I had such a good university on my doorstep. I moved to the University of Bath for my PhD, which I completed in 2012, before I moved on to Ireland. I have been here ever since, firstly at the National University of Ireland, Galway, and now University College Cork.
Where did your interest in microbiology come from?
I started my degree as a Zoology student, but I quickly realised that I am what they refer to as a 'glory zoologist' (only interested in the big furry animals). It was during the first semester that I was introduced to the world of microbiology and quickly switched courses. I later switched again to the Tropical Disease Biology course, which allowed me to keep all the infectious disease modules but swap out the industrial microbiology content for parasitology and vector biology – basically keeping it all about infectious disease, which is where my interests lie.
What are the professional challenges that present themselves, and how do you try to overcome them?
The biggest challenge I face is lack of job security. Working on short-term contracts, I feel that I am not being as ambitious as I would like to be with my research, constantly thinking about what can be achieved and published within the next year. It is something that hangs over you. My current contract is up in September and I have therefore directed a lot of time towards grant applications, to try to keep my research going.
What is the best part about 'doing science'?
Discovering new things and being the first person to observe phenomena. We create knowledge and I think that is pretty cool!
Who is your role model?
Is it weird that I don't have one? I have lots of people who have inspired me in one way or another, but no-one who I would call a role model, or who I look up to.
What do you do to relax?
I'm a runner and currently training for my first marathon. Whilst I am not very fast, running allows me to clear my head and gives me an energy boost. If I go more than three to four days without exercise I get a bit anxious and ratty.
What one record and luxury item would you take to a desert island?
The Arctic Monkeys are my absolute favourite band, so I would have to take their album Whatever People Say I Am, That's What I'm Not, along with a cosy blanket. I am forever wrapped up in a pashmina, even in the office at work. .
Tell us one thing that your work colleagues won't know about you.
We talk so much in the office I can't imagine there is much that they don't know about me! I will go with that I once auditioned for the TV soap Brookside – I wouldn't have told my colleagues here that as they have probably never heard of it. I was big into acting when I was at school.
If you weren't a scientist, what would you be?
The head chef at my own bistro! Cooking (and subsequently eating) is my passion and something which I have a natural flair for.
If you would like to be featured in this section or know someone who may, contact Paul Easton, Head of Membership Services, at [email protected].
---
Image: Conor Feehily.