Policy: When a civil servant met a microbiologist
Issue: Microbes and Food
07 August 2018 article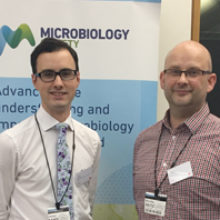 The Royal Society's Pairing Scheme connects scientists with UK Parliamentarians and Civil Servants, to learn about each other's work by spending time together in Westminster and the researcher's institutions. Microbiology Society member Dr Paul Hoskisson took part in the 2017 Scheme with Javier Igartua, an Economic Advisor at the Department for Environment, Food and Rural Affairs (Defra). We spoke to them about the experience.
Javier, can you tell us about your role at Defra?
"I lead on evidence on waste management and the environmental impact of waste, such as recycling facilities, incinerators or landfill, and food waste.
Day to day, I provide evidence support to policy colleagues and Ministers by recommending what policies are best to minimise the environmental impact of waste, and quantify the environmental impacts of our proposed policies. Pulling my advice together entails desk-based research on the subject, modelling predicted impacts of policies, coordinating research projects and consulting with colleagues to ensure my advice and analysis take a well-rounded view of the issues."
What was your prior knowledge of each other's fields?
Javier Igartua: "Pretty minimal! Despite having grown up in a scientist household (my mother is a microbiologist by degree and my father works in research in agriculture)."
Paul Hoskisson: "One of my main reasons for signing up for the Scheme was to find out more about how policy is implemented as I knew very little about the area and also, as I'm naturally cynical, to see how much of policy is actually evidence-based – which is surprisingly a lot!"
What were the highlights for you?
JI: "Getting to clone a gene and actually being successful! Also, seeing waste being disposed of properly."
PH: "The time spent with Javier seeing how policy is formed and implemented from the government departments following a parliamentary/ministerial decision. The mock select committee, run as part of the Scheme, was an excellent way to understand how Parliament functions."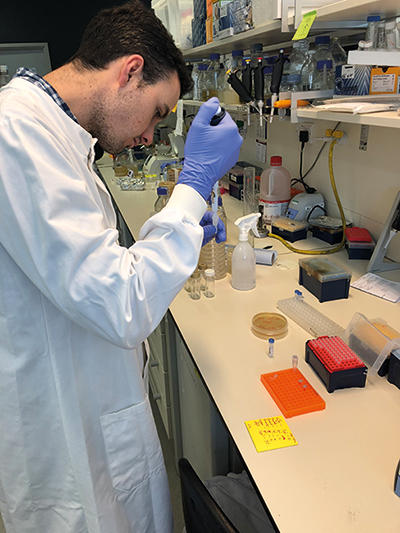 What were the main take homes?
JI: "There are plenty of synergies between areas that may, on paper, look unrelated. I was impressed with some of the work on valorising waste materials. Also, despite Paul and I having very different jobs, our day to day issues were quite similar!"
PH: "I agree with Javier, the same issues crop up in every job and our day to day work is much more similar than one would expect. Also, I was impressed by how hard the civil service works for the people of the UK and how much influence they have on Ministers to make policy workable. I can certainly now see how my work can be framed in terms of its wider impact going forward. I learned a lot about the kind of language used to develop policy and can use this to widen access to my work."
What could be done to bridge the gap between science and policy?
JI: "Yes. Policy-makers need to be better at taking stock of what evidence is out there already and scientists need to proactively communicate it. There is a lot to gain on both sides!"
PH: "This scheme really helps break down the barriers between scientists and policy-makers. I think this is mainly related to the jargon and language we both use, but like multidisciplinary science projects, it becomes easier to communicate and reach common goals with a little bit of attention and thought. There is a little bit of inertia on both sides to engage, but once we do, it will benefit all parties and it can be a lot of fun. There are lots of opportunities to do this, we just need to take them."
What's your advice for scientists looking to engage with government?
JI: "Engage with the Government Office for Science, take part in government consultations, look out for stakeholder workshops and conferences, and, of course, the Pairing Scheme!"
PH: "The Microbiology Society's Policy Committee is a good introduction to this area, as well as the Royal Society Pairing Scheme. There are lots of consultations to get involved in, either via learned societies or directly yourself. I think we have a huge amount of untapped expertise at the Society that could be of great benefit to Government. My work is publicly funded so I feel I have a responsibility to make my work as accessible as possible, to as many people as possible."
Javier, would Paul make a good civil servant?
JI: "Absolutely, although I'm not sure he'd be willing to trade the lab coat for a suit jacket!"
…and Paul, how would you rate Javier's pipetting skills?
PH: "Javier was really good in the lab, although I think he may have cheated and got some tips from his scientific parents! He managed to clone a gene and get a PCR to work, so if economics doesn't work out, I'm sure he could work in a lab!"
To find out more about the Pairing Scheme visit the Royal Society website .
Applications for 2019 will open in late February.
Further information:
Policy at the Microbiology Society
Government Office for Science
Roya Ziaie
Policy Officer
[email protected]