Schoolzone: Microscopes – peering into an invisible world
Issue: Microbes and Food
07 August 2018 article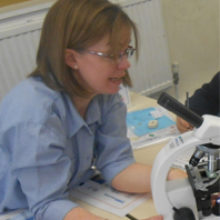 An activity for year 5 children
In February, a team of volunteers from the Sir William Dunn School of Pathology (SWDSP), University of Oxford spent a day with year 5 children at Pegasus Primary School, Oxford. The theme of the event was 'Microscopes' and how they enable us to better understand the world around us.
In designing this event, we considered not only what children would learn and understand, but also how the activities would contribute to the development of scientific skills relevant for key stage 2. We sought input and advice from the teachers to ensure our activities were suitable and safe, and worked closely with the school to fully risk assess the project. To ensure our activities were suitable and safe, we worked closely with the school to fully risk assess the project. We were fortunate to be awarded an Education and Outreach Grant from the Microbiology Society for the purchase of microscopes and we received helpful guidance from Brunel Microscopes Ltd. We also found the Royal Microscopical Society and 'Microscopes 4 Schools' websites useful resources to identify suitable models for the age group.
During a two-hour session, the children had the opportunity to look at posters illustrating the fascinating detail of micro-organisms that we made using images from our Electron Microscopy facility and from online resources such as the Wellcome Trust and Public Health Image Library. The children also attended three workstations. At workstation 1, the children learned how Antonie van Leeuwenhoek crafted lenses and used them to observe micro-organisms, and how Robert Hooke visualised 'cells', the basic units of life. At workstation 2, volunteers explained how microscopes work; the children used lenses to magnify images and labelled the parts of a microscope on worksheets. Finally, workstation 3 was a practical 'observation station' at which the children were able to use microscopes themselves to observe a range of everyday objects and fixed biological specimens using monocular compound and stereomicroscopes.
The children were given tasks to complete, such as to describe and illustrate their observations. The groups were also encouraged to discuss their findings to promote teamwork and communication. The feedback from the children, volunteers and teachers indicated that the event was a success and, from our perspective, seeing the children so engaged with science and their delight when using the microscopes to 'peer into an invisible world' was a very rewarding and enjoyable experience.
This event was the second of three events taking place this year, as a strategic partnership with Pegasus Primary School. Our aim is to help year 5 children develop a keen interest in research and science, and to teach them key concepts of microbiology. We also aim to inspire children by discussing how the achievements of scientists' impact on their daily lives, and hope that meeting and engaging with current researchers may encourage them to pursue the study of science. Our longer-term plan is to foster similar partnerships between scientists from the SWDSP and local primary schools, and to repeat and develop these activities.
Further information
Wellcome Collection Image Library
Public Health Image Library (PHIL)
Christoph Tang, Lindsay Stimson and Rachel Exley
Sir William Dunn School of Pathology (SWDSP), University of Oxford, South Parks Road, Oxford OX1 3RE
---
Image: Lindsay Stimson.