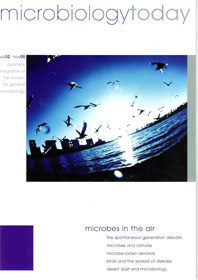 To view and print this document, you will need to download Adobe Acrobat Reader.
Microbes in the Air
01 November 2005 publication
The lead articles of the November 2005 issue of Microbiology Today are on the spontaneous generation debate; microbes and climate; microbe-laden aerosols; birds and the spread of disease; and desert dust and microbiology.
Microbes in the air: John Tyndall and the spontaneous generation debate (p. 164)
Gavin Thomas discusses how the theory of spontaneous generation caused great controversy in the 19th century, yet it took an Irish physicist to disprove it.
Microbes and climate (p. 168)
The impact of micro-organisms on the climate of our planet is amazing and complicated. Stephen Archer wonders if scientists will ever be able to control these unseen forces?
Microbe-laden aerosols (p. 172)
Don Clark describes how the air we breathe is an aerosol, acting as a global means of transport for a wide range of particles, including many microbes.
Flying hazards: birds and the spread of disease (p. 174)
Wild birds may be attractive inhabitants of our environment, but Keith Jones reveal how they can also be vectors of disease.
Training medical personnel (p. 179)
Brian Wood ponders on the appropriateness of modern teaching methods after reading the report of the debate on problem-based learning.
Clouds of desert dust and microbiology: a mechanism of global dispersion (p. 180)
Huge numbers of microbes are carried across continents in dust clouds and they have a surprising effect on global ecology which Dale Griffin explains is only just beginning to be studied.
IDF report (p. 183)
Keith Jones writes a short piece on teaching microbiologists from the Western Balkans to work with pathogenic bacteria for his International Development Fund report.
RCUK consultation on research outputs (p. 184)
Ron Fraser describes the latest UK research council proposals which may have long-reaching effects on journal publishing.
Schoolzone (p. 188)
Dariel Burdass explains the nitrogen cycle.
Astrobiology - a useful oxymoron (p. 191)
In response to the recent Comment by Howard Gest, Milton Wainwright points out that while 'astrobiology' is an oxymoron, it remains a useful term.
Gradline (p. 192)
Jane Westwell gives advice on postdocs nearing the end of their PhDs who might be interested in careers in scientific publishing. The Society speaks to Natalie Wilder, Senior Staff Editor of the Journal of General Virology, in a Q&A format.
Going public (p. 196)
Faye Stokes describes the events the Society organised and attended for its Microbiology Awareness Campaign. Jeff Green and Mark Wentworth, of the University of Sheffield, report on their attempt to promote microbiology in a local school.
Comment - Clostridium difficile (p. 204)
Ian Poxton questions what can be done about the increasing number of cases of hospital-acquired Clostridium difficile infection, especially as new, more virulent strains are appearing.