Outreach: Antimicrobial resistance discussion panel
Issue: Mind-altering microbes
10 February 2015 article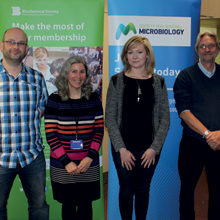 For the second time, our education and outreach team joined up with the Biochemical Society to deliver a public engagement panel discussion on antimicrobial resistance (AMR).
The first event, held in conjunction with the European Congress on Biotechnology in Edinburgh in July was standing room only, with a good mixture of congress delegates and the general public. This time, a further 75 members of the public joined us at Hills Road College in Cambridge in November for an evening discussing AMR. It was held the day after European Antibiotic Awareness Day, so everyone who came had seen many relevant stories in the media beforehand.
The evening started with our three panellists each giving a short presentation. The Head of the Microbiology Society's Communication Committee, Dr Paul Hoskisson, gave a great potted history of antibiotics, what resistance is, our current position and what could happen in the future if too little action is taken. Laura McCaughey from the University of Glasgow explained the science behind antibiotic resistance, how resistance spreads and how resistant bacteria spread. Our final speaker was clinician Dr Caroline Barker from the University of East Anglia, who gave some interesting examples of what happens in a GP's surgery, and about the decisions we all make when using antibiotics.
After the presentations the floor was opened up for questions and discussion. The audience were engaged, with almost everyone putting their hand up and the organisers were sitting on the edge of their seats keen to interact and discuss. The questions were wide-reaching, and included asking if antibiotic resistance is inevitable, what individuals can do, why antibiotics are mis-prescribed, the future of phage therapy and even whether we should be looking for novel antibiotics in crocodile blood! Each audience member took away an information booklet and hopefully these very important conversations will be continued with their friends and families.
We would like to thank Microbiology Society school member Ian Harvey of Hills Road College for his support in setting up this event and for being an invaluable helper on the night. We would also like to extend thanks to our three speakers, Dr Paul Hoskisson, Laura McCaughey and Dr Caroline Barker, for giving up their time and being such engaging panellists. As we continue our partnership with the Education team at the Biochemical Society, more panel discussions will be organised in 2015 throughout the UK.
THERESA HUDSON
Education and Outreach Officer
[email protected]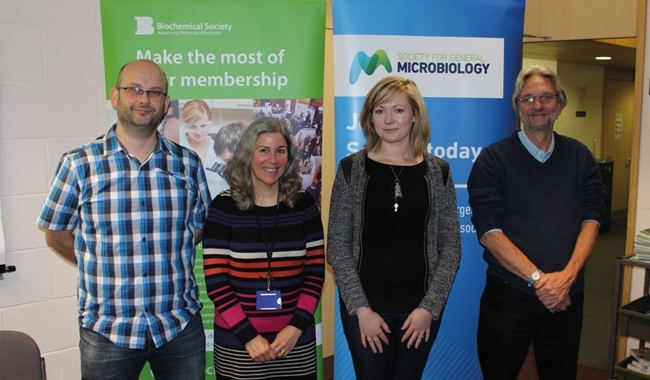 FEEDBACK FROM TEACHERS
"As a teacher of sixth formers, the challenge of antibiotic resistance is going to be a real factor in the lives of my pupils. Twenty of my students were in the audience and the feedback from them has been very positive and appreciative of the opportunity. Many of them will be going to university to study a biological or medical course and who knows, maybe some of them have been inspired to directly contribute to tackling the future challenges of antibiotic resistance."
"The speakers were excellent and the whole evening was a great success. I've spoken to several [attendees] today and all were very appreciative and complimentary."
---
Image: From left to right - Paul Hoskisson, Caroline Barker, Laura McCaughey and Ian Harvey attending the AMR public engagement event in Cambridge..