Society Champions
Issue: Mind-altering microbes
10 February 2015 article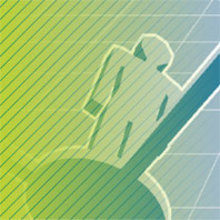 We called and you answered! Last year we put the call out for Society "Champions" – members who would be prepared to do that little bit more for us in their local areas, and we weren't disappointed as more than a dozen of you put your hands up. We now have Champions in many areas of the UK; from Dundee to Lincoln, Glasgow to Norwich, London to Birmingham and beyond. We also have Champions in Turkey, Nepal and Nigeria. Champions are now out there spreading the Society word far and wide.
As the number of Champions grows, so too does the list of activities and initiatives planned. The main objective of Champions is to give the Society more of a local presence and to form closer relationships with existing – and prospective – members, wherever they are.
At the recent Champions Day, we asked our Champions to come up with their ideas about what they would like to do to raise our profile in their place of work or study. We were amazed at the variety, scale and ambition of many of the proposals. When it comes to passion and commitment, our members have it in abundance and this became very evident as soon as the ideas started to come in.
Here is just a selection of recent Champion events, either planned or already delivered. Keep an eye on our website for details of forthcoming Champions' events.
SOCIETY CHAMPIONS, FROM LEFT TO RIGHT - ALISTAIR WALSHAM, NICOLA CREWE, ARIKANA MASSIAH, MARIA AFONSO, CONNOR BAMFORD, MARILIA DE ASSIS ALCOFORADO COSTA, ED WRIGHT, HAJAH MOHD AFSAR.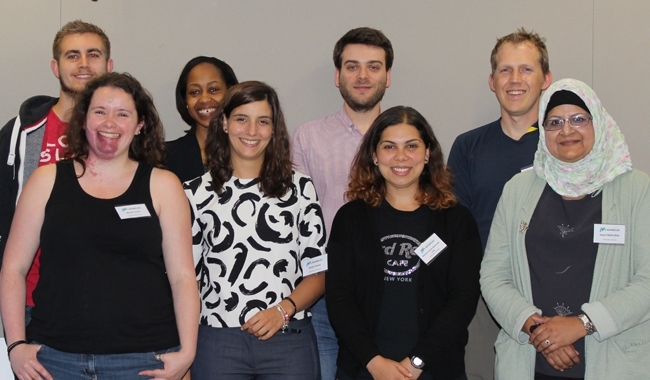 Hot topic seminars
London-based Champion Ed Wright is organising a series of topical talks on important human and animal pathogens. These will be pitched to a broad audience and cover a range of current issues of public interest.
Pub quiz
Hops, yeast and sugar. It doesn't get more relevant than that! Dundee-based Champion Marilia Costa ran a very popular pub quiz successfully blending questions about alchemy with all things microbiological. It proved to be a great way of raising the profile of microbiology and the Society. I wonder why?
Early-career research symposium
Norwich-based Champion Alistair Walsham ran a symposium for early-career researchers in the Norwich area. "There are a number of groups here who work on different sorts of microbes (gut microbes, nitrogen- fixing bacteria and Streptomyces to name a few) and it has been great to get these groups together", said Alistair.
Micro_talks
An evening of high-impact short talks is being planned for the June 2015 Glasgow Science Festival by Champion Connor Bamford. Connor has a couple of high-profile speakers in his sights to help create an event that will be both entertaining and informative. Look out for further details on the Society's website.
Specially for Students
Two Champions – Hajah Mohd Afsar from the University of Surrey and Nicola Crewe from Lincoln University – have both run a series of activities aimed at new microbiology students within their respective universities. Conferences and stands at Freshers' Week to introduce the Society to new students were both well received.
Lunchtime goodies
Another London-based Champion, Arikana Massiah, arranged a very successful lunchtime talk at the Royal London Hospital for colleagues. "We had a very good turn-out from all departments. In total there were 55 attendees. I have received a lot of positive feedback about the event".
Careers events
Nottingham-based Champion Laura Bennett has been busy working with sixth form students to enthuse them about the wonders of microbiology, with the hope they will carry this through into their university studies. Liverpool-based Champion Maria Afonso is organising a careers panel, to show students already enrolled in microbiology degrees what they can do with their expertise.
Other Champions too, are all engaged and working to help promote the Society in their areas. Recent additions to the group include Agah Ince from Istanbul in Turkey, who is keen to do what he can. "Personally, I have experienced a lot from the Society. Now I would like to contribute something back". Our Champions in Nigeria, Adegboyega Oladipo, and Nepal, Manoj Pradhan, are also busy doing what they can in their work places too.
If the idea of becoming a Champion appeals to you, why don't you get in touch? We are looking to expand the network and do even more to raise the profile of the Society at the local level.
You don't need any special skills to become a Champion. Enthusiasm for your subject material and a willingness to share it are all we ask. In return, we will provide you with the necessary resources, training and support to undertake your Champions role successfully. UK-based Champions will be invited to a Champions Day in London – where we bring all the Champions together for a day to share experiences and learn from each other's successes (and near misses!). Plus, you will receive free Society membership for the duration of your Championship. Becoming a Champion will help enhance your CV and bring you into contact with other members who could also help progress your career and professional development.
PAUL EASTON
Acting Head of Membership Services
Contact Paul, [email protected], if you would like to know more about becoming a Champion.