Membership Q&A
Issue: Microbial Tools
15 May 2018 article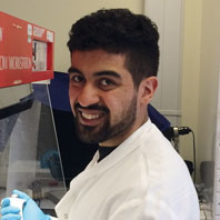 This is a regular column to introduce our members. In this issue, we're pleased to introduce Ed Cunningham-Oakes.
Where are you currently based?
Cardiff University, under Professor Eshwar Mahenthiralingam in a BBSRC CASE-Studentship sponsored by Unilever.
What is your area of specialism?
Cultivation-independent microbiology.
And more specifically?
Using whole genome sequence to understand the basis for bacterial resistance, and to anticipate adaptation in response to preservatives, which is important for industry to develop novel product preservation strategies.
Tell us about your education to date.
I underwent primary and secondary education in Stoke-on-Trent in Staffordshire. I then graduated from King's College London with a BSc in Pharmacology with Extra Mural Year degree.
Where did your interest in microbiology come from?
Whilst I was studying Pharmacology, I undertook a one-year placement at St George's, University of London. During this time, I was researching the synergistic efficacy of aminoglycoside antibiotics and nordihydroguaiaretic acid against resistant and sensitive strains of Staphylococcus aureus, and was fortunate enough to publish. This experience spurred my interest in microbiology and development of antimicrobial resistance, leading me to my current project.
What are the professional challenges that present themselves, and how do you try to overcome them?
Working alongside industry is a fast-paced, busy, but enjoyable change from the pure academic research that I have been used to in the past. It requires a different type of organisation and the strictest confirmation to time-constraints. Additionally, it teaches to you to always bring your a-game with regards to work, data sharing, confidentiality and interacting with collaborators. It has been a real eye opener!
What is the best part about 'doing science'?
The discovery, and knowing that you are contributing to the wider knowledge of the field (every little helps, right?)
Who is your role model?
Frank Zane aka 'The Chemist' – he won the bodybuilding competition Mr Olympia three times, was one of three people to ever beat Arnie (Arnold Schwarzenegger), had a masters in experimental psychology, and taught mathematics and chemistry for 13 years to boot! Truly a talented, well-rounded individual.
What do you do to relax?
Blog writing, playing video games and weightlifting.
What one record and luxury item would you take to a desert island?
The Black Parade album by My Chemical Romance (a major part of my formative years), and a mobile phone to call for help.
Tell us one thing that your work colleagues won't know about you.
I can actually be quiet (sometimes).
If you weren't a scientist, what would you be?
Potentially an editor or writer. My opinion changes daily though!
If you would like to be featured in this section or know someone who may, contact Paul Easton, Head of Membership Services, at [email protected].