Outreach: Schools and outreach
Issue: Microbial Tools
15 May 2018 article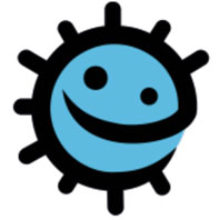 e-Bug is an educational programme for schools and the community operated by Public Health England. The author, Catherine Hayes, is the e-Bug project assistant and has worked on this project since 2015.
Antimicrobial resistance (AMR) is no longer a far-off threat of the future, but a healthcare crisis affecting us today. Across the globe, organisations are taking a multidisciplinary approach to tackling AMR, involving continued research into new antimicrobials, improved diagnostics and education of the public. Educational initiatives that promote prudent antimicrobial behaviours and correct perceptions around antimicrobials are critical in our fight against AMR.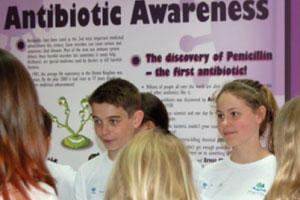 Most importantly, it is our next generation that will have to keep up this fight and who will be our future antibiotic users and prescribers. Therefore, educating children at a young age to instil good hygienic behaviours to reduce the spread of infection, as well as an understanding of prudent antibiotic use, will provide them with the best chance of beating AMR.
Educating young people about AMR
Educating youths on concepts such as AMR and microbiology is very challenging and requires innovative teaching practices and methodologies. e-Bug has utilised peer education as a new method to educate young people about AMR. Peer education involves students adopting the role of teacher and educating their peers on key topics.
This initiative has been used in schools, community groups, universities and even workplaces. Peer education has been used extensively for sexual health and HIV education in low-income countries, where it has been shown to significantly improve behaviour outcomes (Medley et al., 2009) and there has been similar success for sexual health education in high schools (Caron et al., 2004). Peer education has been used previously to educate children about prudent antibiotic use and led to an improvement in awareness around the uses of antibiotics (Cebotarenco & Bush, 2008).
The e-Bug peer education model
e-Bug has added to the bank of evidence to support peer education as a successful tool to educate about microbiology and AMR. e-Bug have a multi-topic science show for secondary school students involving five interactive stands on microbes, hand hygiene, respiratory hygiene, food hygiene and antibiotics. As the flow chart depicts, the peer education model involves students receiving training on a stand by public health researchers and then delivering their knowledge to other students from the school and/or local primary school.
The evaluation of the science show confirms that peer education provides unique benefits to students and is an effective AMR and microbiology education tool (Young et al., 2017). Children acting as peer educators were able to retain knowledge of the topic better than regular teaching, while benefiting from a whole range of skills and behaviour changes including science communication, confidence and team working. Students being taught by their peers also benefited from greater knowledge gain.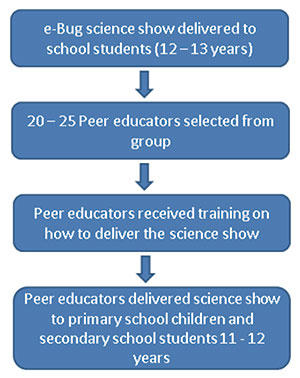 e-Bug has also developed peer education for A-level students aged 15–18, which involves young adults delivering an antibiotic-themed lesson to their peers. This includes interactive demonstrations of how antibiotic resistance occurs, correcting common misconceptions and promoting antibiotic stewardship in young people. This model is currently being investigated and evaluated in collaboration with Cardiff and Manchester Universities.
To summarise, peer education is an effective method to educate young people on microbiology and AMR, and provides a unique opportunity to mould and enthuse the scientists of tomorrow.
e-Bug is an educational resource operated by Public Health England for young people aged 4–18 years old, and will be celebrating its 10th birthday in 2019!
Access the wide range of resources hosted by e-Bug, available in 23 different languages, at: www.e-bug.eu
References
Caron, F., Godin, G., Otis, J. & Lambert, L. D. (2004). Evaluation of a theoretically based AIDS/STD peer education program on postponing sexual intercourse and on condom use among adolescents attending high school. Health Education Research 19, 185–197.
Cebotarenco, N. & Bush, P. J. (2008). Reducing antibiotics for colds and flu: a student-taught program. Health Education Research 23, 146–157.
Medley, A., Kennedy, C., O'Reilly, K. & Sweat, M. (2009). Effectiveness of peer education interventions for HIV prevention in developing countries: a systematic review and meta-analysis. AIDS Education and Prevention 21, 181–206.
Young, V. L., Cole, A., Lecky, D. M., Fettis, D., Pritchard, B., Verlander, N. Q., Eley, C. V. & McNulty, C. A. M. (2017). A mixed-method evaluation of peer-education workshops for school-aged children to teach about antibiotics, microbes and hygiene. Journal of Antimicrobial Chemotherapy 72, 2119–2126.
Catherine Hayes
e-Bug Project Assistant at Public Health England
---
Images: The thumbnail is the e-Bug logo and the second image shows students acting as peer educators during the e-Bug Science show. Public Health England.