Heatley-Payne Award 2014
Issue: Mycobacteria
27 August 2014 article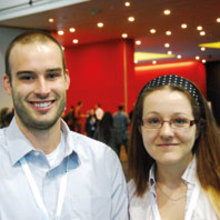 The Microbiology Society, together with the American Society for Microbiology (ASM), offers an annual award to recognise and reward the scientific excellence of a postdoctoral member's current programme of research and scholarly activity.

The SGM Heatley-Payne Award recipient receives a contribution of up to £3,000 to cover costs to present their research at the ASM General Meeting or the ASM Conference for Undergraduate Educators (ASMCUE) and to make a short visit to an institute in the US. The visit can be used to learn a new technique or to carry out a defined piece of research. The award aims to help the recipient raise their international profile and experience the best of microbiology in the partner country.
This year's recipients were Dr Faye Morris of the University of Birmingham (for SGM) and Dr Nicholas Eisele of Stanford University (for ASM). Dr Eisele attended the SGM Annual Conference 2014 in Liverpool, where he met the SGM's reciprocal award recipient (pictured), and then visited the laboratory of Professor Gordon Dougan at the Wellcome Trust Sanger Institute.
Dr Morris delivered a poster at the ASM General Meeting in Boston, which she said was a fantastic experience from which she gained ideas for new directions to advance her research. This was Faye's first ASM General Meeting and she was impressed by both the range of cutting-edge science covered and the career development sessions. This was followed by a three-week visit to the laboratory of Professor Thomas J. Silhavy at Princeton University to receive training in the construction of depletion mutants in Salmonella typhimurium. Faye first met Professor Silhavy at a SGM Conference and says that the initial face-to-face meeting made it easier when it came to approaching him about a visit to his laboratory. In addition to the stimulating research discussions, a highlight of the visit was the friendships she has made with the lab members. She found the entire US experience invaluable for cementing her decisions on the next stage of her research career and is currently exploring postdoctoral opportunities overseas.
HAYES-BURNET AWARD 2014
A similar award is made with the Australian Society for Microbiology. The 2014 winner, Dr Erica Kintz of University of York, attended the Australian Society for Microbiology's Annual Scientific Meeting and visited the laboratory of Dr Richard Strugnell at the University of Melbourne to further her research of the host immune response to O antigens in Salmonella typhi infection.
KAREN MCGREGOR
Grants and Careers Officer
[email protected]
THINK YOU COULD BE AN AWARD WINNER IN 2015?
Start planning your research visit now as the closing date for the 2015 awards is 30 November 2014. Details can be found in the Grants section.
---
Image: Dr Nicolas Eisele of Stanford Unversity and Dr Faye Morris of the University of Birmingham..