Obituary: Professor Lorna Casselton 1938-2014
Issue: Mycobacteria
27 August 2014 article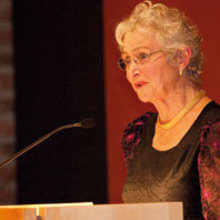 Lorna Ann Casselton, Professor Emeritus of Fungal Genetics at the University of Oxford, died on 14 February 2014: she was 75.
Lorna was born on 18 July 1938 in Rochford, Essex and attended Southend High School for Girls. She decided to study botany as an undergraduate; an interest she developed from her father William Smith, a keen amateur naturalist. She attended University College London and gained a BSc before receiving her PhD in 1964. She lectured for a year at Royal Holloway, University of London, before moving in 1967 to Queen Mary, where she was Professor of Genetics (1989–1991). She then moved to Oxford University as a senior research fellow, becoming Professor of Fungal Genetics in 1997. She was also a Fellow of St Cross College, Oxford and became one of the UK's most important female biologists of the past 30 years.
Throughout her career, Lorna used genetics to study mating in mushroom-forming fungi. Unlike animals and plants that have two sexes, many fungi have more: tens or even hundreds of different sexes in some species. As recognition of her outstanding and pioneering research, Casselton was elected a Fellow of the Royal Society in 1999, served on the governing council of the Royal Society in 2002–03, before being elected Vice-President and Foreign Secretary. In this influential role she acted as an ambassador for British science, visiting many countries during her time in office. She was made an honorary member of the British Mycological Society in 2002, and in 2012 she received a CBE for services to fungal genetics and international science.
After her first marriage to Peter Casselton and later divorce, she married William Joseph Dennis Tollett in 1981 who survives her.
LAURA BOWATER
University of East Anglia
St Cross College, Oxford has established the Lorna Casselton Memorial Fund in Lorna's memory. The purpose of the Memorial will be to establish an annual lecture in her name, and the Lorna Casselton Memorial Lecture will bring an eminent scientist to Oxford each year to give a keynote address and present groundbreaking research in a biological area. If you would like to contribute in Lorna's memory, the details are available online.
---
Image: Lorna Casselton. Bruce Sampson/NTNU Vitenskapsmuseet.