Annual General Meeting and Showcase of the Society's Achievements
Issue: Natural Products and Drug Discovery
05 November 2019 article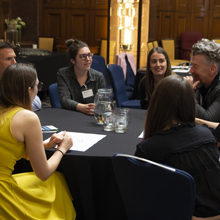 Each year the Society hosts a showcase event, before our Annual General Meeting, for early career members of the Society to come together, meet each other and learn from other members of the Society who are further on in their careers.
The event allows us to recognise the excellent work our Committee members, Champions and Prize Winners have accomplished over the past year.
This year's event, which took place on 12 September 2019, at The Law Society, London, began with a talk from Dr Lindsay Hall on 'Building and being a part of a team', followed by a series of networking activities for our early career members which focused on bringing together ideas and how to work collaboratively as a team.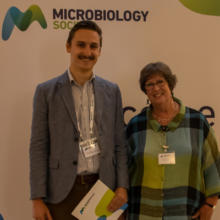 Guests were then invited to view posters from the Annual Conference poster prize winners during lunch, before the final of the Sir Howard Dalton Young Microbiologist of the Year (YMOY) Competition began. The nine finalists were shortlisted from a range of oral and poster presentations given at the 2019 Annual Conference, 2018 Irish meeting and 2018 Annual Conference.
Each finalist gave a fantastic presentation of their research in another hard-fought competition. The Society congratulates all of the finalists and thanks those who took part in the competition. The winner was then announced at the evening reception. Congratulations to Davis Laundon, from the Marine Biological Association, University of East Anglia, for winning first prize for his talk 'Shining new lights on chytrid cell biology: quantitative live cell imaging of rhizoid development in an early-diverging fungus', and to second and third-prize winners Sarah Worsley and Michaela Conley, respectively.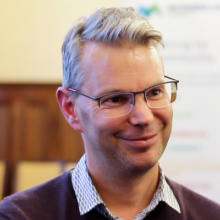 Davis said of winning the prize: "The competition was absolutely amazing this year. I thought every presentation was excellent and incredibly well communicated. To be awarded the prize amongst those presentations was a really huge honour and incredibly flattering."
After the business of the AGM, the final celebration of the day was Professor Matt Hutching's Microbiology Outreach Prize talk on his outreach project 'Antibiotic Hunters'.
Matt explained that the project is about "our hunt for antibiotics […] and the kind of weird and wonderful places that we try and find them".
Watch Q&As with both Davis Laundon and Matt Hutchings on our YouTube channel.