Comment: Industry insights into drug development
Issue: Natural Products and Drug Discovery
05 November 2019 article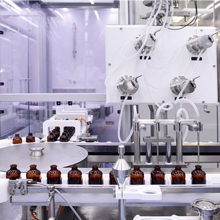 Delivering life-changing medicines within today's bio-pharmaceutical industry is a complex operation informed by early development decisions, and the time, investment and tenacity of our teams is not always visible to our most important stakeholder, our patient. The following short narrative will highlight some of the challenges we face as we transform the lives of millions of patients every day.
Discovery
When considering molecules for drug candidacy in Phase I trials, a bench scientist may not have formed an optimised manufacturing process. However, as we are recognising at Merck Sharp & Dohme (MSD), we need to embed manufacturing considerations earlier on in the development pathway for critical success. We realise that manufacturing technologies are a key corner stone for the successful production of molecules and, as we progress to more bespoke molecules, a number of critical elements need to be addressed as early in the process as possible.
Assume you have discovered a new antibiotic – what next?
Manufacturing costs are often multiple millions of pounds if a bespoke facility is required. Should the molecule in question be for a large-scale public health issue (for example, cholesterol, diabetes) this cost can be offset against the longevity of the commercial lifecycle, essentially recouping the costs over a number of years when the treatment is protected by a patent. Increasingly, however, the molecules identified are for small patient populations and, as we progress further down the path of personalised medicine, this will continue to challenge the bio-pharmaceutical industry. Indeed, one of the biggest challenges we face, antibiotic resistance, is impacted by this scenario. Any new antibiotic will, by definition, be highly restricted on use to inhibit further resistance mechanisms. In prescribing this business model, the pressures on the associated manufacturing costs would be significant and could slow progression to market.
Commercial supply
In order to combat manufacturing costs, Contract Manufacturing Organisations (CMOs) are often used. These CMOs offer a platform of manufacturing operations from high-potency powder handling, sterile containment for primary container closure, through to full co-packed combination product. Here the issue is now one of capacity. Given the financial constraints highlighted, there are ever-increasing demands for CMO manufacture; these by nature are specialised and, as such, a very small pool of manufacturing companies exists. Consider your antibiotic; this has been refined to a sterile powder formulated into sterile cartridges for an auto injector. There is a minimal list of potential suppliers, assuming a platform existed. Once secured, the manufacturing plan will need to be negotiated. Typically, these types of platforms offer total capacity of hundreds of millions of units per year. If we look to supply a Phase III clinical study, we could need a fraction of this (2,000–5,000 units) and for a restricted-use antibiotic the commercial volumes will continue to be low, meaning we are just a small part of the CMOs' 'book of business'.
Regulatory landscape
The regulatory landscape has never before been so dynamic and demanding. With the onset of the US Food and Drug Administration (FDA) Medical Device and Combination Products legislation and the European Union Medical Device Directive (MDD), the path for any new delivery system and active pharmaceutical ingredient (API) is much more complex. A device (bespoke or platform) will require a design history file or technical manual if a CE mark is mandated. These regulations increased following the Poly Implant Prothèse (PIP) breast implant recall in 2010, including human factor testing, user harms assessments and toxicology requirements to name a few. Combined with the traditional New Drug Application (NDA) requirements, these are built into MSD's drug/device development to ensure our products are safe and effective.
When a fully-approved product is ready for market, the constraints built in at the beginning of drug discovery then play a critical role in the agility and responsiveness of supply.
Key constraint considerations
What is the demonstrated product stability? What manufacturing requirements do we have? Explosive risks associated with powders? Cold chain storage? Light protection? Sterile barrier breakdown? Analytical release methods? Import analytical methods? Provision of inputs? A casual look at this list may seem overwhelming, a missed step here would be a costly mistake.
Consider influenza vaccine production – global production of egg-based flu vaccine is constrained by the number of eggs available. Consider a temperature-sensitive oncology therapy held incorrectly at an airport to allow complex final product import testing to be conducted, rendering the shipment useless as the product is now ineffective. Both scenarios restrict product availability for our patients.
Supply chains are the mechanism for getting our medicines to our patients. I have offered an insight into this increasingly complex and globally dispersed operation in order to highlight the challenges faced and how these, if considered early, can be overcome.
Despite the challenges, we must continue to innovate for our patients and deliver life-changing medicines from the drug discovery lab bench through to the end of the supply chain.

Michael Bagnall
Virtual Plant Manager – External Manufacturing Operations, Manufacturing Division, Merck Sharp & Dohme Limited, Registered Office Hertford Road, Hoddesdon, Hertfordshire EN11 9BU, UK
Living with his wife and daughter in the Peak District, Mike graduated from University of Wales (Aberystwyth, UK) in 2004 with a BSc in Microbiology. Mike has 15 years' pharmaceutical operations experience, from drug development to full-scale commercial production/plant management. Now working within MSDs External Manufacturing Team, Mike manages the external production at various vendor factories globally.
On a typical day (or week) in your position what do you do?
A typical day as a Virtual Plant Manager is anything but typical! A day might start with releasing production orders for my CMO to produce, ratifying and approving the five-year production plan. There may be a team meeting with my focus factory to understand the quality, technical and operations tasks needed in the short term. Other tasks may include switching to a production schedule review with the CMO, Brexit planning, trade dispute oversight (for supply chain disruption), invoice approvals, strategic project review meetings, to name a few. It's certainly never, ever dull.
What inspired you to become a microbiologist?
When you consider that a small bundle of fairly simple proteins, lumped together, can either kill you or produce an antibiotic that saves billions, it's easy to be inspired! I wanted to understand this world in all of its wonderful complexity.
---
Image: Sterile bottles on the bottling line of a pharmaceutical plant. Neznam/iStock.