Member Q&A
Issue: Natural Products and Drug Discovery
05 November 2019 article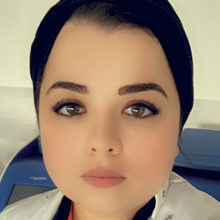 This is a regular column to introduce our members. In this issue, we're pleased to introduce Zina Alfahl.
Where are you currently based?
I am currently based in the United Kingdom and am studying for a PhD at the School of Pharmacy, Queen's University Belfast.
What is your area of specialism?
My research in microbiology focuses on the detection of pathogenic bacteria of potential clinical relevance in people with bronchiectasis.
And more specifically?
There are currently no guidelines for the management of bronchiectasis. My project focuses on the determination of the relationship between airway microbiome composition, inflammation and clinical outcomes in bronchiectasis, as well as informing the choice of both clinical and lab outcome measures for future clinical trials. This is likely to help with targeting new therapies in bronchiectasis.
Tell us about your education to date
I obtained my first-class honours Bachelor of Pharmacy degree from Al Ain University of Science and Technology, United Arab Emirates. I then moved to the UK to pursue my higher education at Queen's University Belfast with the Halo Research Group, which investigates infection in chronic lung disease, and the Northern Ireland Clinical Research Facility (NICRF) team under the supervision of Professor Michael Tunney and Professor Judy Bradley.
Where did your interest in microbiology come from?
My interest in microbiology started in the second year of my undergraduate degree, when I discovered that microbiology has a huge impact on our lives. I was keen to explore and find out more about microbes in the human body, and how microbiology helps us in curing many life-threatening diseases.
What are the professional challenges that present themselves, and how do you try to overcome them?
Working in a world-class laboratory was my dream when I started planning for my PhD, but at the same time I was aware that I had to commit a large amount of time and effort, which can be stressful. I learned how to handle stress and how to manage my time to achieve my targets. Moreover, the laboratory environment I am working in hasn't hesitated to help me to overcome any challenges.
What is the best part about 'doing science'?
The best part of 'doing science' is the ability to adopt and develop problem, solving strategies that can overcome any obstacles a scientist might encounter.
Who is your role model?
Any successful person in life I consider my role model. I am grateful for everyone in my life and there are many who inspire me.
What do you do to relax?
I'm passionate about travelling. Travelling helps to relieve stress.
What one record and luxury item would you take to a desert island?
A scientific book and my mobile.
Tell us one thing that your work colleagues won't know about you.
I don't like complaining and wasting time.
If you weren't a scientist, what would you be?
A lawyer.
If you would like to be featured in this section or know someone who may, contact Paul Easton, Head of Membership Services, at [email protected].