Spotlight on grants: Education and Outreach
Issue: Natural Products and Drug Discovery
05 November 2019 article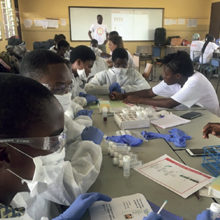 Education and Outreach Grants support a variety of science teaching and engagement activities, providing members with opportunities to improve microbiology teaching, outreach and communication to many different audiences.
Earlier this year, PhD student Sabastine Arthur (University of Cambridge, UK) was awarded a grant to support his outreach project, 'Be aware of Infectious Disease Epidemic' (BIDE), in Ghana. The aim of this project was to demonstrate to school children how an infectious disease outbreak can be diagnosed and managed within a community. The method of engagement was adopted from Dr Lucy Thorne (University College London, UK) and Professor Ian Goodfellow (University of Cambridge, UK) with whom Sabastine worked with closely over the course of the project.Sabastine also worked closely with Ghana-based NGO 'Vacation Initiatives in Science, Africa' (VISA) and 'Hardie Wren Development Initiatives' to organise the project from Ghana and the UK, respectively.
Sabastine said the project provided "an opportunity to discuss the importance of vaccination and encouragement of personal hygiene in preventing disease outbreak."
The programme ran for four days and over 200 school students participated. Students were given a short series of lectures and practical sessions to inform them about common infectious diseases, such as Ebola and measles, and how we can identify them. They also learned how an outbreak may arise and subsequently how infection can spread beyond their schools – through homes, hospitals and wider communities.
Students could then apply what they had learnt to a series of incidence outbreak case studies. This involved performing glucose tests on simulated blood samples and analysing Lego-brick-built sequences of DNA that corresponded to a host of pathogens.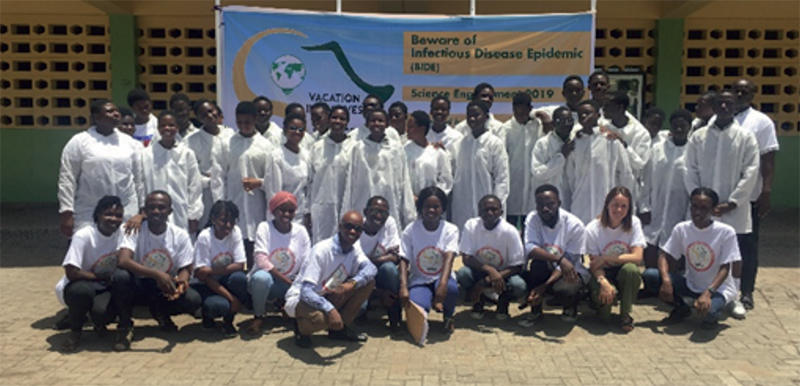 To end the programme, a local journalist was invited to engage students through a series of question and answer sessions. This enabled them to reflect on what they had learnt and effectively communicate this to a wider audience.
Sabastine said the highlight of his project was that it enabled his team to "deconstruct the myth that science is a difficult discipline to pursue, and that anyone can do science irrespective of their gender, financial background or social status."
Since returning from Ghana, the project has developed so that it can be run by Sabastine's group of volunteers in different institutions and regions across Ghana. The team are now planning to set up a lab that will be involved in engaging children in several practical science activities in line with the Ghana Education Service science curriculum.
Applications for the Education and Outreach Grants open twice a year, in January and June, with deadlines in April and October, respectively.
To find out more about the wide range of grants available to support Microbiology Society members, visit the grants area of our website.
---
Images: School children aided by volunteers to perform experiments to identify an infectious disease agent in an outbreak incidence. VISA.
Post-engagement activity photo of a group of volunteers and school children of Labone S.D.A Basic School, Accra, Ghana. .VISA.