Focused Meetings 2019
Issue: Oceans
05 February 2019 article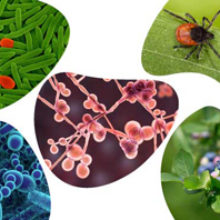 This year we have another fantastic series of Focused Meetings, created by our members, for our members and the wider microbiological community. These events are bespoke and tailored to the communities who attend them. All members get a discount when registering, so add the dates to your calendar and spread the word via your networks. You can visit the Events area of our website for updates on each event and follow the Society on social media for information.

Anaerobe 2019: Changing perceptions of anaerobic bacteria; from pathogen to the normal microbiota and back
13–14 June 2019 | Jurys Inn, Cardiff, UK
Anaerobic clinical microbiology remains a challenge due to specialist culture requirements, coupled with the increase and spread of antimicrobial resistance. The normal human microbiota is primarily composed of anaerobic bacteria, and a source of life-threatening anaerobic infection.
More recent metataxonomic and metagenomic sequencing has extended interest in the potential role of the microbiota in a plethora of aspects of human health, from obesity to mental health. The successful use of faecal microbiota transplants for the treatment of clostridial infection also raises potential unchartered long-term consequences and possibilities.
This meeting will provide scientific insights into the future impact of anaerobic bacteria in human health and disease, addressing the implications of recent microbiota studies as well as the continued threat of emerging and re-emerging anaerobic infections.

British Yeast Group: Discovery to Impact
26–28 June 2019 | County Hotel, Newcastle, UK
Yeasts are versatile, model, unicellular eukaryotes that have been extensively used for over a century to explore fundamental aspects of living systems. Annual gatherings of the British yeast community have taken place since the 1980s, and the Microbiology Society have been pleased to incorporate the last two British Yeast Group meetings in its annual Focused Meeting programme.
The 2019 British Yeast Group meeting, taking place in Newcastle, will explore the theme of 'Discovery to Impact'.
The programme will feature a range of keynote talks from invited speakers and will also give young yeast researchers the opportunity to present their research through a series of posters and offered oral presentations. The meeting will feature a varied social programme, offering delegates plenty of opportunities to make new connections, discuss research projects and to strengthen relationships in the British yeast community.

IMAV 2019: International Meeting on Arboviruses and their Vectors
5–6 September 2019 | University of Glasgow, UK
The Third International Meeting on Arboviruses and their Vectors will take place between 5 and 6 September at the University of Glasgow. As we see the continuing transmission of pathogens such as dengue and chikungunya, and the emergence of other arboviruses, as well as progress in understanding vector biology (including ticks, mosquitoes, midges), this area of research remains of high importance and is continually evolving.
The many scientists and clinicians with different areas of expertise who share an interest in arboviruses need a dedicated forum to discuss viruses and vectors in depth. This meeting will provide the opportunity for people in the arbovirus research community to meet and exchange ideas.

Microbes in Medicine: A Century of Microbiology at Trinity College Dublin
24–25 October 2019 | Trinity College Dublin, Ireland
The discipline of Microbiology at Trinity College Dublin celebrates its centenary in 2019, and this meeting will mark the occasion by focusing attention on the significant contributions that have been made by the College to microbial sciences.
The meeting will be a celebration of the strength of microbiology in Trinity College and in Ireland today and the unifying scientific theme of the meeting will be Microbes in Medicine.
It will bring together scientists and medical practitioners with an interest in pathogenic mechanisms and in the use of microbes and microbial products to treat and prevent diseases.
Highlights of the meeting will include sessions on recent advances in the application of genomics to study antibiotic resistance and virulence in pathogens, persister cells, gene regulation in pathogens and microbial cell surfaces. The importance of the human microbiota and how it differs between healthy and diseased states will also be explored.

Antimicrobial drug discovery from traditional and historical medicine
29 October 2019 | Ashmolean Museum, Oxford, UK
Approaches to natural product drug discovery currently focus on microbial secondary metabolites. An often-ignored database of antimicrobial compounds may lie in the plants, plant products and other natural materials used in historical pharmacopeias.
But while extensive efforts have been made to explore traditional medicines from Asia, South America and the Indian subcontinent for novel compounds, a concerted effort to characterise and exploit the natural products used in pre-modern European medical texts has not been made.
Given the presence in these texts of natural products with known antimicrobial and/or immunomodulatory qualities (e.g. Artemisia or Allium spp., honey), and a stalled antimicrobial R&D pipeline, a thorough scientific evaluation of European ethnopharmacology is overdue.
This meeting aims to establish a research network for microbiologists, chemists, botanists and historians of medicine, along with industry contacts. We aim define current expertise and to spark new collaborative and translational research in this area.
Member opportunity! – Society-Supported Conference Grants
Members can apply for our Society-Supported Conference Grant of up to £2,000, which can be used towards covering the costs of invited speakers' travel and accommodation. The deadline for the next round of applications is the 7 June 2019, and you can find more information about the full eligibility criteria and the application process on our website, as well as see a list of the events we have sponsored to date.
---
Images: ErikKartis/Thinkstock. Roger Harris/Science Photo Library. Mikola249/Thinkstock. Dennis Kunkel Microscopy/Science Photo Library. Kateryna Kon/Science Photo Library